Last week I noticed that little Simcoe had lost the pouch of fat on her belly. At the time I assumed that it was just the diet food we'd switched both cats to in order to manage Caligula's weight. MJ had a look at her too and we realized she'd actually lost more than just her pouch of fat, she was quite skinny. A vet appointment was made for Saturday the 10th.
At the vet visit on Saturday we learned that she had dropped from 9.09lbs in January to just 6.06lbs. Her temperature was low, she was dehydrated and a physical exam caused the doctor to be concerned about her kidneys. They ordered a full blood panel and urine analysis for her.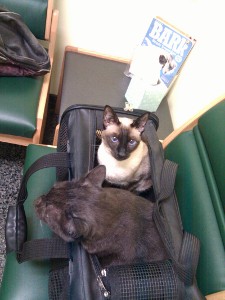 Simcoe the Siamese at the Saturday vet visit (Caligula came along too)
The results would be in on Monday, and I spent a fair amount of time on Sunday reading just how bad kidney problems were in cats. Very upsetting, but I was hopeful that her activeness, appetite and absence of vomiting were good signs.
The results that came in on Monday were not good. Her kidney function was very low and all kinds of levels were wrong. We made an appointment to drop her off for an ultrasound Tuesday morning. I spent Monday evening hanging out with her on the couch, it was clear at this point that her energy levels were lower than normal.
The vet called Tuesday afternoon with the crushing news, severe kidney disease and a prognosis of a few months to a couple of years to live. We moved forward with the suggested initial treatment of a 72 hour diuretic treatment to flush out bad stuff and to increase hydration. She'll get to come home Friday evening.
Last night we went to visit her and was able to speak with the vet for a few minutes. The treatment includes regular subcutaneous fluid therapy, special diet and managing of symptoms, but in the end it's still a non-curable disease because servery damaged kidneys don't heal. Non-experimental kidney transplants for cats are available these days, and there is a transplant facility just an hour north of here (one of just 11 in the country), but transplants are very expensive, hold a fair amount of risk, require adoption of the donor cat, and twice daily medication for the rest of her life.
The vet called this morning to say she's responding well so far to the diuretic treatment and even ate some food this morning after some petting to calm her down.
We're in research mode now. Soaking in information from felinecrf.com and joined a Feline CRF Support mailing list. We'll be exploring all the options.
Mostly though? I've been crying. Last night I was in the haze of shock. Simcoe just turned 5 years old last month and has never lost her kitten-like playfulness (that, combined with her size, causes me to still call her a kitten). Her and Caligula been my companions through some tough times these past few years. We love this little cat so much.