We picked up Simcoe from the vet this evening following her 72 hour diuretic treatment. Unfortunately the blood tests haven't shown much improvement, but she did manage to put on some weight and has seemed more energetic.
The vet sent us home with a whole bag of stuff to continue with her care at home: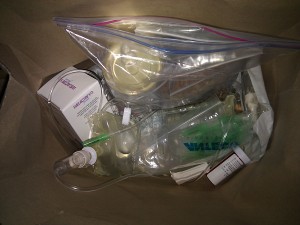 For now we'll be giving her subcutaneous fluids every other day, and an acid reducer (Famotidine) and fatty acids (Welactin) daily. She also has special kidney formula food that we're working to figure out how to feed her. Having two cats that have to eat two very specific foods (diet food for Caligula to manage his weight) is not an easy task, for now the plan is to offer her the kidney formula soft food twice per day and hope she eats that instead of too much of the diet dry food.
We went ahead and made an appointment at PetCare Veterinary Hospital in Santa Rosa on Thursday to discuss the kidney transplant option and get a preliminary exam done. There is funding coming together for further stem cell studies, but it's unclear whether that's a real, useful option at this point. Beyond that, management of the disease and symptoms is the most common treatment, but is limited in how much it can do to prolong a healthy life with poorly functioning kidneys.
She spent this evening cleaning herself and sleeping on my lap.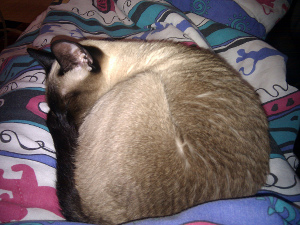 We really missed her, it's so nice to have her home. I'm over the initial shock of the diagnosis and ready to do what we need to do to care for her.