Last month I took over as the Marketing and Website Lead for Xubuntu. Thanks to the rest of the team for supporting me!
There have been several ideas floating around the Marketing wiki page so I decided to start here and make some laptop-worthy Xubuntu stickers.
I went with Moo.com because I really liked the how the Partimus stickers came out (and have survived a lot of abuse living on my netbook these past few months).
The result: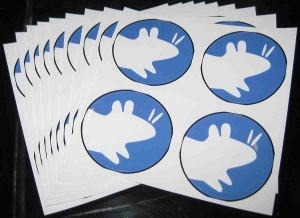 The black border you see does not show up on the sticker itself, it's just beyond the cut. I'll try to fix this up during my next order.
And an action shot of the sticker on my netbook!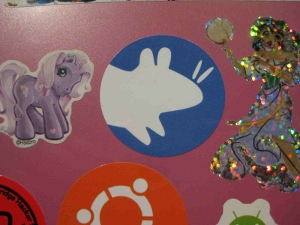 I've included the instructions for how to make these yourself (including the image I used) on the Marketing page under our new Current projects heading.
This week I also created a Twitter account for the project, you can now find us @XubuntuLinux on Twitter. For now we're just going to aggregate our blog posts and release announcements here, but in the future we may expand it to more if we have more volunteers to help out with it.
Have some ideas for marketing? Please let me know (lyz@ubuntu.com) or just go ahead and add your ideas to the Further ideas section of our Marketing wiki page.
Finally, website update! As I've mentioned before we're moving to WordPress and have been hard at work doing theme and content reviews. Our last site sprint for this was this past Saturday, I've summarized the results of that sprint here. Huge thanks to knome, madnick and GridCube for attending and to beardygnome for his work on a new "About Xubuntu" page that's coming together.