Last night I hosted the monthly San Francisco Ubuntu Hour. We had a last minute change of venue due to the coffee shop we meet in deciding to close early without warning (ah, the joys of local small businesses), but fortunately we were able to use the lobby one door over and people managed to find us. We got an install of an eeePC going for a new user who had previously been using the Xandros install that shipped with his system, but was finding it increasingly insufficient since support went away for it.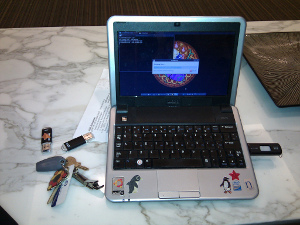 Afterward the Ubuntu Hour one of the members of the Ubuntu California team showed off his clever plans for an Ubuntu-themed candy display for our booth at SCALE 10x next weekend. I'll be sure to take lots of pictures.
SCALE 10x. I'm flying out on a 6:47 PM flight on Thursday evening, putting me at Los Angeles shortly after 8PM. This is much better timing than my late flight last year that didn't get us to the hotel until after 1AM, and I had a talk at 9AM. Unfortunately with all of Simcoe's medical stuff going on we decided MJ will have to skip this one to take care of her (in the future we hope to medically board her, but we've put her through a lot this month already). This year my SCALE schedule is quite packed, I once again have the 9AM Friday morning slot at Ubucon, this time doing a talk on Getting Involved with Ubuntu. Saturday morning at 8:30AM we'll be putting together the Ubuntu booth and then coordinating with volunteers to keep it staffed through Sunday evening. Later that morning I'll be giving my Bringing Linux into Public Schools and Community Centers talk for the Open Source in Education track of the conference. Sunday morning at 11AM several of us are meeting in the lobby for an Ubuntu Women gathering. Throughout the conference I'll be at the Ubuntu booth as needed. At 5:30PM we pack up the Ubuntu booth and head to the airport for my 8PM flight back home. Should be a fun, if exhausting, weekend.
But before SCALE is this weekend, when we have Ubuntu User Days! I've worked primarily with the Ubuntu Beginners Team to recruit volunteers to present at this event, so huge thanks to them for being such an enthusiastic group of folks. It's all on IRC (joining in instructions here) so while helping run the day I'll also be doing final prep work for SCALE and catching up on project work and email.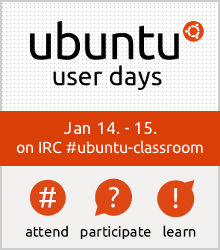 Full schedule can be found on the User Days wiki: https://wiki.ubuntu.com/UserDays including the schedule with links to the UTC time converted to other time zones.