On February 5th several people from the Ubuntu California team headed over to Redwood City for dinner with Ubuntu-loving attendees from the Linaro Connect conference.
It was Super Bowl Sunday so we lucked out at a pizzeria that lacks a television – they seemed to be doing a brisk delivery service but the restaurant was pretty empty! Thanks again to Chris Johnston for contacting me prior to the event to arrange a time so I could find a venue and we could organize this.
I also hosted had another Ubuntu Hour and Debian Dinner evening the following evening. It was a lot of fun, even managed a small GPG keysigning at dinner.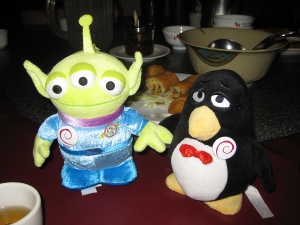 Finally, I love animals, but I didn't know what a pangolin was until Mark Shuttleworth announced Precise Pangolin as the 12.04 release name. He explains his selection of the pangolin:
Now, I've recently spent a few hours tracking a pangolin through the Kalahari. I can vouch for their precision – there wasn't an ant hill in the valley that he missed. Their scales are a wonder of detail and quite the fashion statement. I can also vouch for their toughness; pangolin's regularly survive encounters with lions. All in all, a perfect fit. There's no sassier character, and no more cheerful digger, anywhere in those desert plains. If you want a plucky partner, the pangolin's your match.
What an interesting creature! Now I haven't yet met one (San Diego Zoo does have some tree pangolins, but that's pretty far from here), but I have had a chance to learn about them over these past few months. The first thing that is abundantly clear is that they're now endangered due to loss of habitat and poaching.
The SavePangolins.org site is an aggregation of information about pangolins and organizations that folks can donate to to help the preservation of them and other animals sharing their Asian and African habitats.
I bought a spiffy t-shirt, 100% of profits go to support pangolin conservation.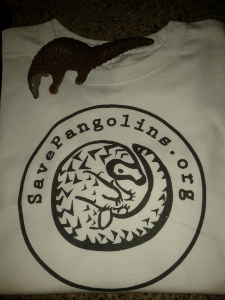 The pangolin toy came from Amazon.com, great for booths when people ask what a pangolin is!