On Thursday the 26th we took Simcoe to a follow-up exam for her dental work. The visit went well, the site of her tooth extraction had healed. While we were there we decided to do some more blood work to see where we stood with that, as it had been a month since the last check.
The test results took longer than usual to get back, but vet got back to us today to report that BUN was down to 46 (normal range: 14-36) from 56 and CRE was at 2.4 (normal range: .6-2.4) from 2.9. It's the best news possible for a cat with kidney failure, it means she's responding to treatment and we're hopeful she can remain in this stable state for a long time, I've now read reports of cats with her stage of renal failure and proper care living 5+ years.
Getting the supplies to maintain her treatment has been an interesting adventure. We managed the following:
Lactated Ringers Solution, DEHP Bags, Hospira: with a prescription through Walgreens, but we had to follow these instructions (thank goodness for them!). The box of 12 1000ml bags was $22.96 with the Walgreens prescription discount plan the instructions recommended.
Sub-q needles: with a prescription through Walgreens, easy! Even better, with the prescription discount plan we signed up for in the instructions given for the fluids they are only $11.99 for a box of 100.
Subcutaneous (S.Q.) Macro-Drip Fluid Administration Set: with a prescription through drsfostersmith.com (direct product link), we can probably shop around more for these but $3.99 each is quite reasonable and we got free shipping with our order of 12.
Nutramax Welactin Feline Soft Gel Caps – 60 Count: no prescription, just bought a couple bottles from Amazon.com (direct product link), bought two to qualify for free shipping.
Pepcid AC: easiest one on the list! We just bought OTC and picked up a pill chopper so we can cut up the appropriate dose (we had to do this will the pills from the vet too).
For now we're still getting her food (Purina NF Kidney Function Feline Formula dry, and Hills K/D wet) through the vet, but we'll re-evaluate that over time.
Throughout this whole process I was struck with how difficult it was. I suspect a lot of people just get the supplies exclusively through their vet so they don't have the hassle, but I'm hopeful that now that we've figured this all out and have scripts and accounts on file with the appropriate vendors we won't need to deal with much trouble in the future.
I haven't quite worked out a system to manage where to store all this new cat stuff, but I'm working toward one.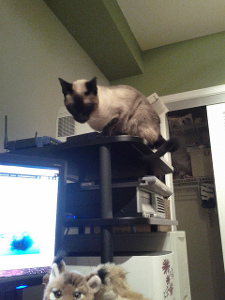 Simcoe feeling better and getting into trouble again
So we continue her treatment and assuming things continue to go well we'll take her back in for blood work in 3 months.