Last night, as announced here and mentioned here, Grant Bowman and I did a presentation for the Bay Area Linux Users Group (BALUG) on Ubuntu 12.04 (Precise Pangolin).
When I arrived a gentleman I'd been corresponding with over email had his netbook set up for me to look at. He couldn't remember his password and I had a USB stick with Ubuntu ISOs on it, so resetting the password just took a few minutes. We then headed into the dining room for the typical BALUG family-style Chinese offering.
The presentation followed dinner and was very casual, meeting in the bar area of the restaurant rather than the upstairs room (there was another event going on). Michael Paoli graciously printed out handouts that I put together in lieu of projector+slides. People asked questions throughout and we had very engaging discussions about virtualization technologies on Ubuntu these days (KVM, Xen, VirtualBox), kernel changes (PAE, the 64-bit as default discussion), OpenStack and more. The improvements in Unity to keyboard navigation where a huge hit, as was the new shortcuts menu you get by holding down the Super key, there were a few people who mentioned they would "give Unity another shot in 12.04" after the demonstrations.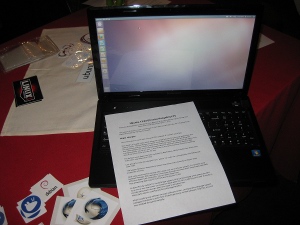 We wrapped up the evening by answering a few final questions and passing around our identical Lenovo G575 systems running 12.04 so people could play with Unity and gnome-panel versions.
Much of the content from the handouts came from the Alpha and Beta release announcements. The handouts themselves are available, licensed CC BY-SA, so you're welcome to borrow for your own presentations:
In other 12.04 news, next week the Ubuntu California team will be hosting a release party in San Francisco!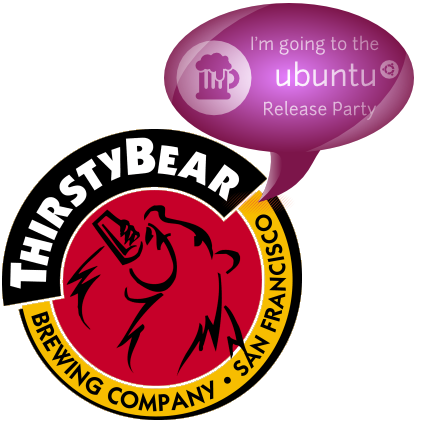 Date: Thu, 26 April 2012
Time: 7:00 – 9:30PM PDT
Where: Thirsty Bear Brewing Company, 661 Howard Street, San Francisco, 94105 (Map)
RSVP: http://loco.ubuntu.com/events/ubuntu-california/1615/detail/
This will be a pretty informal get-together where we enjoy tapas, optional craft brews and chat about Ubuntu. This is a restaurant so all ages are welcome and there are non-alcoholic beverage offerings. On and off-street parking is available and the venue is just a couple blocks from the Montgomery BART and MUNI station.
We're going to try and meet around the high tables opposite the bar, but in case we're not there just look for the people with the Ubuntu shirts. Please note that this is not a sponsored event, so it's pay-for-what you eat/drink and we'll be closing the tab throughout the evening so we don't end up with a big bill at the end.