I have been to four Ubuntu Developer Summits (UDS), and at all of them I found the advice of local Ubuntu contributors to be very valuable to my visit, the shining example of which was the culmination of being downtown in a city and having the support of the Hungarian LoCo team while we were in Budapest.
This UDS it's my turn to be a local, and it's once again being held downtown in a city!
From May 7-11th UDS will be held in Oakland, which is across the bay from me here in San Francisco. With the cities being so close I make frequent trips to Oakland for baseball games, to fly out of the Oakland airport, to visit their museums and zoo or to see shows. In the "Bay Area" of which Oakland is part of, there are many similarities in transit and other key things that make most anyone within the area a useful local at an event in Oakland.
The Ubuntu California team has been pretty excited about this, and we've been brainstorming some things to do on our wiki:
https://wiki.ubuntu.com/CaliforniaTeam/Projects/UDS-Q
And we have been moving confirmed evening events to the UDS wiki:
https://wiki.ubuntu.com/UDS-Q/OtherEvents
We've also put together a public transit page for UDS attendees:
https://wiki.ubuntu.com/UDS-Q/PublicTransit
Huge thanks to Eric P. Scott and Chris Peeples who have offered invaluable suggestions for this transit page, it was much smaller when I began!
We've also gone ahead and created "I'm a local" buttons which friendly members of the Ubuntu California team will be wearing throughout the week of UDS to help out with public transit directions, finding places to eat and more.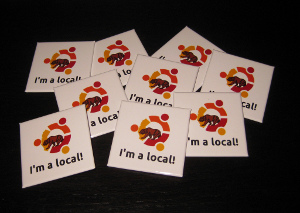 We welcome any UDS attendees to join us in our channel #ubuntu-us-ca on freenode or the ubuntu-us-ca mailing list with any questions about the area as you make your preparations to visit.
Several of us on the team have also cleared our schedules on the weekends surrounding UDS to spend time with visitors and are happy to help with details on bay cruises, museums and other "tourist stuff" which may be of interest in the area. On the Sunday before UDS I'll be in downtown San Francisco (where I live) and would be happy to spend time with folks looking to do some shopping around Union Square. The Saturday following UDS I am thinking about taking interested folks over to the San Francisco Zoo and to see the Pacific ocean (too cold to swim, but it is pretty!), both accessible via light rail public transit. For both of these things people are welcome to drop suitcases and other items at my home downtown if it makes the logistics easier. If you're interested, please drop me an email at lyz@ubuntu.com or grab me (pleia2) on IRC or track me down at UDS :)
Hope to see you there!
Disclaimer: I don't work for Canonical and the work of the Ubuntu California team is not in any way a sponsored or included as part of the Ubuntu Developer Summit itself. If you have more general questions about UDS, your sponsorship or travel arrangements please follow-up with the contact at Canonical you've been working with.