MJ and I travel a frequently, last year was my biggest travel year ever for me with nearly 50k miles of airline travel. For long trips last year we have a couple of friends who were happy to drop in to feed and water them every few days. Then, when Simcoe was diagnosed with CRF in December we learned she'd now need special food, special attention to her behavior, daily medication and subcutaneous fluid injections every other day. How could we travel now that we had a sick kitty to care for?
It quickly became clear that we had three options:
Stop travelling
Board Simcoe at the vet while traveling
Hire a petsitter to come in daily while traveling
While I have learned that many folks with CRF cats selection option 1, it wasn't practical for us. I don't anticipate as much travel this year as last, but travel is an important part of our lives from work to family. The second option is not optimal given how stressed out Simcoe gets at the vet, to leave her at a place that makes her so upset for a whole week without Caligula? So sad! We were apprehensive about the third option because it required giving keys to our home to a stranger and trusting them with the security of our home and lives of our cats. We spent several weeks going over our options.
The topic of traveling came up on one of the cat care lists I've joined since learning of Simcoe's diagnosis and someone recommended searching for a sitter on the National Association of Professional Pet Sitters (NAPPS). It was there where I found The Petsitters here in San Francisco. We met with the owner, Elaine, and her assistant who would be accompanying her on visits and could take over in the event of an emergency. We spent almost an hour answering questions about the cats and going through details of their care, everything from their favorite toys and treats to the specifics of Simcoe's particular care routine. They have considerable experience with administrating the subcutaneous fluids, giving pills to pets and caring for sick animals in general. At the end of our meeting I was satisfied with the interaction and felt comfortable going on our trip.
Our trip to Philadelphia last month was the first trial of this petsitting experiment. "No news is good news" is their policy, but took an opportunity to call once during our trip just to check in to confirm all was well – and it was! I was able to keep my worrying to a minimum.
When we returned home the cats where happy and healthy and Elaine had left a detailed note talking about their care while we were gone. In all, an excellent experience that we will repeat the next time we go out of town for more than a couple days!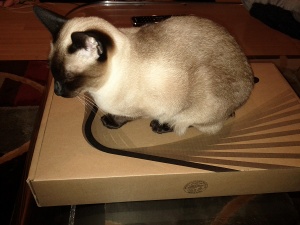 While on the topic of Simcoe, she's been continuing to respond well to treatment, largely acting like her old self again and even putting on a little weight (which is unusual for CRF cats). We'll be taking her in for blood work soon to make sure her levels are all still looking good and to adjust care as needed.