Last year I wrote Stuffed animal K, L, M, N, O… documenting the stuffed toys I had started collecting as LoCo booth/event decorations for each Ubuntu release. The stuffed animal tradition ended with P as I couldn't find a stuffed toy pangolin, and I had similar trouble with our Quetzal. I ended up with the Safari Incredible Creatures: Pangolin plastic toy, and after much consideration I bought this trio of ornaments: Kurt Adler 4.5-6″ Animal Planet Resin Tropical Bird Ornaments with Metallic-Style Paint and Glitter: Lovebird, Macaw and Quetzal Set of 3, along with a 10″ Spiral Ornament Display Stand.
The quetzal is now enjoying a spot on my desk: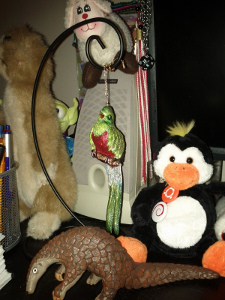 Looking forward to planning the first event this cycle where the quetzal can come along!