I have fallen in love with custom printing. Over the past several months I've been experimenting with several companies that do it, including CafePress, Zazzle, MOO and VistaPrint. Based on the product I want, I've had varied success with all of them, but for laptop stickers MOO has come out my favorite.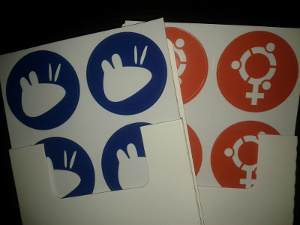 As such, I now have over 100 Xubuntu and Ubuntu Women stickers. I give them out at events, carried around some for the Ubuntu Developer Summit in my TARDIS laptop bag (no time traveling, but it did seem bigger on the inside, pretty much any time anyone asked me for something I was able to oblige, except for having more "I'm a Local" buttons, which I bought from Zazzle and didn't get nearly enough of!).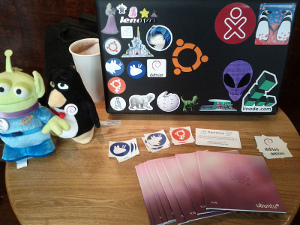 Stickers in action at a San Francisco Ubuntu Hour!
Now that I have all these stickers that I'd like to share with non-local Xubuntu fans and Ubuntu Women project supporters. Just drop me an email at lyz@ubuntu.com and I'll reply with details on how to receive a sticker or two. If you're in the United States, I'll reply to you with my postal address and you can send me a self-addressed stamped envelope and I'll ship you the stickers for free. If you're outside the United States, I'll probably just ship them to you out of pocket.
In the email I'll need:
Subject: [STICKERS]
Which stickers you want (Xubuntu or Ubuntu Women)
Quantity (1, 2, or a reason why you need more)
If outside the United States, a name and address to ship them to
And since people have asked… yes, I'm doing this all out of pocket and I'm a community member just like you. If you want to help support buying more stickers and shipping outside the US, small donations to the paypal account linked to lyz@princessleia.com are welcome, but not expected or required.
Want to buy stickers directly from MOO yourself? I've posted details I've used to make both stickers on the wiki pages for each team: