This afternoon I had the incredible honor of accepting an O'Reilly Open Source Award at OSCON for my work in the Ubuntu community.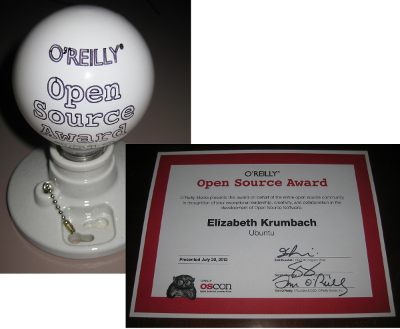 It's been an exciting day and thanks to all my supportive friends at OSCON who were there with hugs and handshakes, it was an unforgettable experience.
Now I would like to extend a heartfelt thank you to the Ubuntu community for being a community that I've wanted to spend all this time with. Through my work in the Ubuntu community I have not only found exceptional colleagues, but a support network that I have come to rely upon both personally and professionally and I wouldn't be where I am today without it.
Without hesitation, I can say "I am what I am because of who we all are."
Thank you everyone!
And congratulations to the others who also accepted an O'Reilly Open Source award today, Bradley Kuhn, Christie Koehler, Jim Jagielski and Massimo Banzi!
Award announcement details, along with blurbs about our work here: O'Reilly Open Source Awards 2012. Also, the folks at Evil Mad Scientist Laboratories wrote a cool blog post about how they created the awards with one of their Eggbot kits. They were also gracious enough to gift us with Eggbots of our own, I'm excited to go home and build mine!