On Tuesday night I managed to get a few hours of sleep before MJ woke me up at 3AM to get ready to leave at 4AM for our 6AM flight out of San Francisco to Manchester, NH via Philadelphia. The flights were uneventful, we picked up our rental car in Manchester and made the drive up to Maine. Our first stop was Kennebunkport where we had dinner at Hurricane Restaurant. Not to have a repeat of my last trip to Maine where I didn't get my lobster dinner, I started off my trip by having it there!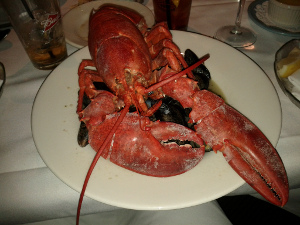 After that delicious lobster dinner, we were leaving the restaurant when the 4th of July fireworks show for Kennebunkport was starting, so we were able to watch it from the parking lot.
Thursday we started off our day by heading out to Fort Williams Park on the north edge of Cape Elizabeth to see the iconic Portland Head Light. While there we got to visit the museum and take some touristy photos: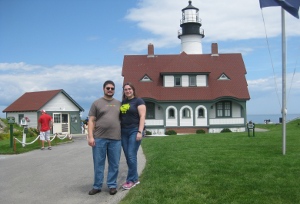 Fort Williams is also where they held my high school graduation ceremony, so I got to show MJ the location of that. We rounded off our afternoon at the park by stopping at Bite into Maine, a food truck in the park (a recent addition, they didn't have food trucks when I was living here!) where we had some delicious lobster rolls.
From there we made the drive up to Farmington to do what we were planning on for this trip… finally see my sister and her new son Xavier, my first nephew!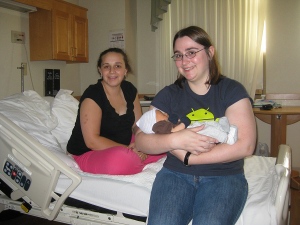 I have to admit not being much of a baby person, had never actually held such a young newborn (less than 2 days!) and at under 6lbs Xavier is an extra small newborn, my mother kept telling me to relax while I was holding him. Easier said than done, but by the end of the evening I was feeling slightly more comfortable. We left Annette and Xavier around 8 and had dinner with my mother at the delicious little Mill St. Cafe in Jay before driving back to our hotel for the night. On our way home we were driving through Auburn when they had a fireworks show (we assume it was postponed due to rain the night of the 4th), we stopped in a parking lot to watch.
Today I'm planning on showing MJ around a bit of Cape Elizabeth, my hometown, before making the trek back up to see my family again.