Yesterday afternoon MJ and I headed south to Felton LUG so I could give a presentation with the ambitious title of "Everything you ever wanted to know about Xubuntu" for the group.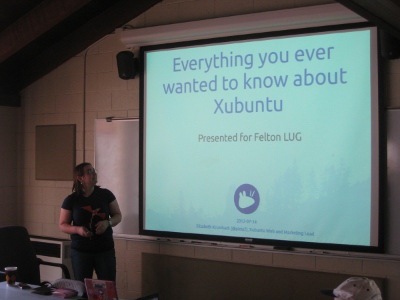 The group was incredibly welcoming and engaged during my presentation, asking interesting questions throughout. At the end I was able to give a demo of the Xubuntu 12.10 daily build from the 13th so I could show off some of the new features of Xfce 4.10.
Slides: PDF, ODP
Slide template: http://spreadubuntu.org/en/material/presentation/xubuntu-presentation
Thanks again to Bob Lewis for inviting me to speak and afterwords taking me out to visit nearby Henry Cowell Redwoods State Park where I got to see some huge trees and Roaring Camp Railroads (I'll have to go back some time to actually ride the trains!).