On July 28th we brought Simcoe in for her quarterly checkup, the last one was on April 28th (I wrote about it here).
Just as with last time, Simcoe has been responding well to the CRF treatment. No unusual behavior activity-wise, vomiting has not been frequent and we were hopeful that she'd put on even more weight.
The physical exam went well, except disappointment from the vet that she couldn't obtain a urine sample. We learned she is up to 9 pounds! Up from 8.1 last time. 9 pounds is her healthy weight so this is great news.
Last Tuesday we got the blood work back:
BUN: 45 (normal range: 14-36)
CRE: 2.6 (normal range: .6-2.4)
BUN went down since last time (was 55) and CRE has gone up a tad, previously at 2.3. Her phosphorous levels remain within normal ranges and her red blood count looks good. We then booked an appointment for the following Saturday to bring her in for the urine analysis, which we were happy she cooperated with this time and we were able to be out of the vet in under a half hour. This Tuesday the vet called us with preliminary results and recommended that we do a further culture to rule out some protein issues that the preliminary results were hinting at, so we ordered that test too. Happily we got the results back today and everything looks good!
She continues to be picky about her food. While at the vet we took the opportunity to pick up a few more cans of prescription wet food to see if we could find one that she would eat. We've relied upon US Canned Cat Food Data on Tanya's Comprehensive Guide to Feline Chronic Kidney Disease site to pick a variety of low phosphorus over the counter canned foods so she keeps eating. We did have to switch her dry food a couple months ago, since that is still a bulk of what she eats and she stopped eating the Purina NF Kidney Function Feline Formula, she's now on the Prescription Diet k/d Feline Renal Health.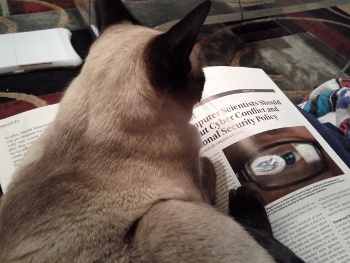 Simcoe acting like her normal self, preventing me from reading
We're very glad to have such good news all around. The vet recommended that we do another checkup in 3-4 months to make sure she stays on track.