On September 24th I got my Visa for Ghana, and was able to breathe a huge sigh of relief! Having already booked my tickets, bought a number of items for my trip and made solid plans with the team I'm traveling with it would have been troublesome if I didn't manage to get my Visa, or had to scramble to reapply due to a mistake (even though I checked the forms 400 times). I can relax now as everything falls into place.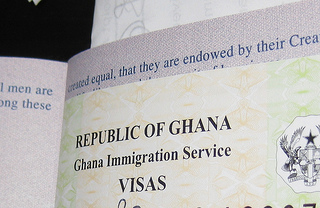 The leader of our group, Dave Sevick, has started working to secure accommodations. We should have Internet access where we're staying, but we won't know how fast, reliable or generally useful it will be beyond simple checking of email and blogging until we get there. I suspect sorting and uploading of photos will be a project for me to do quickly during my 2 days home before heading off to Copenhagen rather than during our travels. And regardless of our Internet access situation, I simply doubt I'll have time to keep up with things online as our schedule has us quite busy. I'm really excited that one of the things booked for us is going to visit the Accra Linux Users Group!
My shopping and expenses list seems to have leveled out with the following:
Plane Ticket (less $500)
$1,282.40
Malarone (co-pay)
$48.69
Azithromycin (co-pay)
$3.15
Travel clinic visit
$50.00
Hep A&B vaccination
$112.00
Polio booster
$65.00
Typhoid vaccination
$87.00
Yellow Fever vaccination
$121.00
Water purification bottle & filter
$115.00
Water purification tablets
$10.00
Alcohol wipes, sunscreen, bug repellent,
first aid cream, etc
$35.00
Ghana Visa, photos + shipping
$110.00
Total
$2,039.24
Thankfully the community has generously donated for this trip and I've reached the $2,000 goal I set, thus covering most of my out of pocket costs. I'll also be buying a local SIM when I land to put into my old Nexus One ("my" Nexus S is actually one I'm borrowing from MJ, so I don't want to risk damage or loss). I've also bought some clothes, but I didn't include them since nothing is very Ghana-specific so I'll certainly be able to find uses for them beyond this trip. I'm sure there will be incidentals and I am taking unpaid time off of work for this trip, but I've managed to handle that sufficiently in my budget.
While looking for things to read about Ghana, I found Travels in Ghana and Folk Tales from Ghana as some quick, light reading on my Nook (and in spite of both being quite short, you couldn't beat the cost at $2.99 and $1.99 respectively!). I was also delighted to find a travel book published this year! Ghana (Other Places Travel Guide) which I've been reading over the past week, and intend to re-read portions of before I travel. I'll probably leave this guide with the Computer Reach folks so they can take advantage of the tips within, as they will have multiple teams going over during the next few months and years and by the time I get my next opportunity it'll probably be time for another book!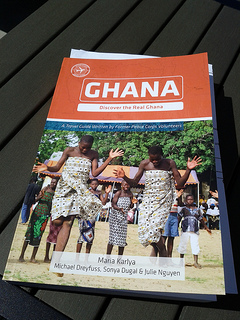 I also got a haircut. I hadn't planned on getting one prior to the wedding, but when I started thinking about all the travel I have coming up, and how nice it'll be to have my hair off my neck while in an equatorial country, it seemed to be the smartest thing to do.
The Computer Reach folks have updated their blog regarding the trip: New Details of our Ghana Trip. Beth Lynn Eicher has put a page together with her travel details here and Nancy Latimer has set up a website and a blog to discuss preparation and the adventure itself.
I still need to hand off some of my project work on the Open Source side, but I'm feeling quite ready for this trip now, just 10 days to go!