Friday was crazy busy doing laundry, packing for my Copenhagen trip, writing those last Ghana blog posts and getting a ton of little home things that I wanted to get done before I left, including prepping the next batch of Save the Date cards and shipping out some Ubuntu CDs to other areas of California. I also had time for snuggling the kitties and MJ came home from his trip late Friday night, so we were able to spend some time together. Saturday came too quickly, MJ and I enjoyed lunch together before he dropped me off at the airport.
I left out of the same gate as I did just a couple weeks ago to take the giant 380 to Frankfurt. The flight was uneventful and I actually managed to doze off and get some reasonable chunks of sleep.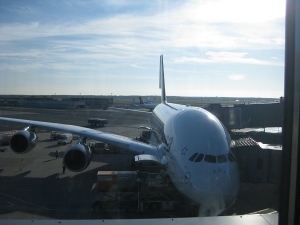 380, arrived in Frankfurt
I then had my 3rd layover in Frankfurt this month! I'm not getting used to the airport, but it was nice to get back into a familiar lounge to relax between flights. Plus I was able to pick up a nice German-manufactured gift for my dragon-loving sister that I saw but forgot on my way back from Ghana.
Finally it was off to Copenhagen! Another uneventful flight, and short. Once at the airport I was the happiest person in the world when I saw my luggage arrive without incident. I got a 2 zone ticket for train and metro and was easily able to take the train to Helsingør and then Metro to Bella Center. I have to say, I'm very glad I've gotten used to public transit these past couple years, otherwise in spite of the ease it would have been quite the nerve-wracking journey for me.
The Ubuntu Developer Summit is being held in this crazy building: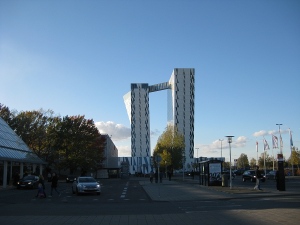 The rooms are small, have twin size beds (I hadn't slept in one of these in years!) and sort of feel like you're in a room designed by Ikea. But the beds are super comfy and in general it's very nice.
For dinner I finally got to meet project lead Pasi Lallinaho and had dinner with him, Jonathan Carter of Edubuntu, fellow community member Jose Antonio Rey and Ian Santopietro of System 76. I'm rooming with Laura Czajkowski this UDS so I was able to visit with her a bit before heading to bed.