On Wednesday the 10th MJ dropped me off at San Francisco airport's International terminal where I grabbed some lunch before boarding my 2:55PM Lufthansa flight to Frankfurt. Aside from being long (around 11 hours), the flight was uneventful, I made significant use of their on-flight entertainment system and even managed to get a couple hours of sleep.
Distance plus time zone change means I arrived in Frankfurt at 10:55 AM on Thursday. After getting quite turned around and accidentally leaving the secure area (my luggage is being sent on to Accra automatically? Oh, good!). I eventually made my way to the Lufthansa lounge near my gate for an hour or so of enjoying their water and Internet access. The flight to Accra was slightly delayed for boarding, but in spite of that the plane boarded quickly and we were on our way almost on time by 2:10PM. Flight time on this was just under 7 hours, putting us on the ground in Accra around 7PM. I took the opportunity this flight to doze a fair amount, probably getting about 4 hours of sleep broken by waking up hourly. During one of my moments of wakefulness I was able to snap a picture out my window as we flew over the Sahara.
The Sahara from my plane!
I think flying over the Sahara is when things really got real for me. I was really flying over Africa, seeing a desert I have only heard stories and legends about!
We arrived in Ghana on time and were welcomed by hot but not unmanageable weather and a cool terminal following a quick ride from the tarmac in a shuttle. They checked our documents for Yellow Fever vaccinations and getting through passport control and customs was easy with properly filled out forms (thankfully given to us early on our flight out of Frankfurt).
Then I got to baggage claim, but my suitcase did not. I spent 20 minutes waiting in line to submit a lost baggage report, and was able to give them hotel and contact information of Daniel, our on the ground contact here. Fingers crossed that they find it and it gets to me some time on Friday, I'm not thrilled about another day in the clothes I traveled it. I'm not sure what I'll do if it doesn't get here!
I bought a SIM card for my phone on they way out to meet my fellow travel companions who had arrived on an earlier flight, they were waving at me as soon as I reached the public area of the airport. Within the hour I was checked into my own room at the hotel.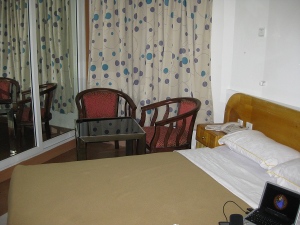 Settled in hotel room in Accra
Between what Daniel could quickly buy and Nancy brought along as extra, they got me sorted with some basic toiletries and Dave (the USA-based leader of our team) loaned me a t-shirt to sleep in. I got my SIM on my phone sorted before bed and was probably finally able to fall asleep around 11PM. I woke up at 3AM and couldn't fall back to sleep, it's now just after 4AM and I'm going to try to get some more rest before breakfast around 8AM. Friday really starts our adventure on the ground here in Ghana with, at the very least, a visit to our first school and meeting with another contact here.
Finally, the Internet access here at the hotel is slow, but usable. I'm not sure how long this will be the case so I'll do my best to at least write updates even if I can't always post photos or have access to Internet to post them immediately upon (or even within a few days of) writing.