My trip to Ghana this month was an adventure. It was the first time I'd traveled to a developing country, one of the most ambitious projects I've had the pleasure of joining and quite the cultural experience. I'm also happy to say that "Plan B" was a resounding success.
Plan B? Our intention for traveling to Ghana was to meet the shipment of 100 Edubuntu desktops being shipped over from Computer Reach in Pittsburgh. There were sites throughout the country that we wanted to travel to and physically deploy the systems with the support of the on the ground staff of the Africa ICT Right NGO. This was Plan A.
What actually happened was deftly summed up at the first meeting of our trip by the Executive Director of the Street Academy, Ataa Lartey: "You have a schedule? Don't make plans, this is Ghana!"
We had a very West African "don't make plans" experience. The shipper that was handling the shipment had a death in the family which prevented him from traveling to Ghana at the agreed upon time. There were then customs issues with caused major delay in having the container released. Then there was the general culture in West Africa of that caused everyone involved to be very relaxed and casual about the delay, while us northeastern Americans worried and panicked.
So it was on to Plan B! Instead of doing deployments, we visited the Street Academy in Accra and Evangelical Presbyterian Church School in Ho to check on previous deployments of laptops and to do teacher and administration training. To do this training we ended up developing some documentation and course material, I've uploaded the initial drafts here: http://people.ubuntu.com/~lyz/ghana/ but I hope to find a more permanent location for them so they can be collaboratively edited and released. We also met with key leaders and representatives in Ghana from Google, Ashesi University College, Ghana-India Kofi Annan Centre of Excellence in ICT, USAID, the Accra Linux Users Group, the City Waste e-waste recycling center and more to develop relationships as the work of Computer Reach and Africa ICT Right continues in Ghana.
Since we were still in Accra, we also had time to meet with reporters at the Street Academy and so were featured in a couple newspaper articles, in the Ghanaian Times (photo here) and the Daily Graphic: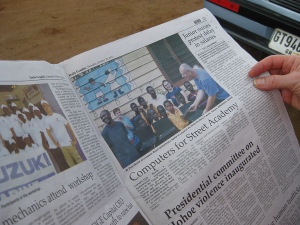 Daily Graphic article
We also learned a lot, including how we should go about shipping the computers next time and how vital training is for these deployments. What we'e learned has caused a re-evaluation in the actual procedure undertaken for the deployment of these 100 computers. Nancy and I trained a couple of the Africa ICT Right volunteers so they can train the teachers and administrators at the schools these computers will go to in the coming months. We also learned about the ICT training that is given in schools in Ghana and were able to see the books the teachers use for teaching, and while they do have a fair amount of generalism, many of the instructions and screenshots are all targeted at using Microsoft Windows. Part of Nancy's job in developing training was showing how the curriculum could be satisfied by using an alternate operating system – namely Edubuntu.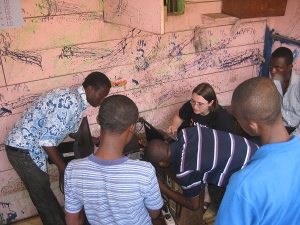 We also had an exceptional experience with the Executive Director of Africa ICT Right, Daniel Kwaku Ganyoame. He was the one in Ghana who found Computer Reach and reached out for a collaboration to make this whole project happen. He was with us every day (and the whole weekend in Ho) and coordinated meetings, make sure we made it everywhere safe and in general helped us with everything we were doing, and will continue to coordinate deployments on the ground now that we have the computers safely warehoused. He was so friendly and welcoming and had an excellent sense of humor, which I particularly appreciated when I realized I wasn't the biggest fan of the local food. On top of this, he also runs a school in Tema!
It was also great working with the team from Computer Reach. Dave Sevick, Beth Lynn Eicher and Nancy Latimer are all exceptional humanitarians who I felt honored to be working with. I felt comfortable with the team, we all watched out for each other throughout the journey and we were able to easily collaborate and solve problems through shifting plans and expectations.
We also had time for a bit of fun, satisfying my desire to see some animals while in Ghana we went to the Tafi Atome Monkey Sanctuary.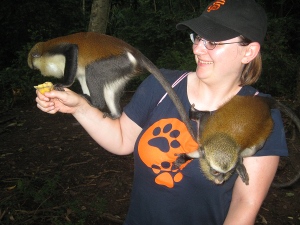 For more details about the trip, I was blogging throughout:
I've uploaded photos of my trip here: http://www.flickr.com/photos/pleia2/sets/72157631856200209/
Finally, huge thanks to the following people who donated to my ChipIn to make it possible for me to go on this trip (names disclosed by permission):
Jorge Castro
Alan Pope
David Lowe
James Tait
XtremeGhost
Arjan Waardenburg
Ivanka Majic
Daniel Chen
Alan Cocks
James Tatum
Scott Sweeny
Peter Matulis
Matti Klock
Ezio
Mika Meskanen
Francisco Molinero Anchustegui
Christopher Crisafulli
Tara Oldfield
Wendy Edwards
And 3 other anonymous donors
Thank you everyone!