Friday was my first full day in Ghana. We had breakfast at the hotel and then met up with Daniel so we could begin our meetings for the day. We also learned that there were some customs troubles that were delaying the release of the computers, a situation we later learned is exceptionally common here.
I got my first sights of Accra in the daylight and was able to share in Nancy's admiration for the people everywhere who were carrying all kinds of things on their heads!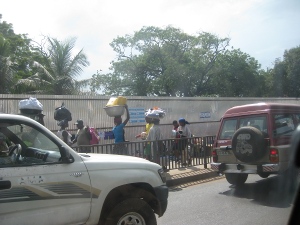 Our first stop was The Street Academy where we were able to spend some time talking with the Executive Director of the school, Ataa Lartey. He was keen to see more computers come to the school, as the children tend to fight over using them and it makes it so routinely only the stronger children get turns with using them.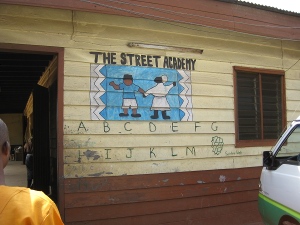 We did get our first taste of what Ubuntu bug #1 looks like though when we had a look at the computers that Computer Reach sent them several months ago: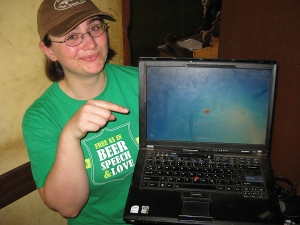 Yes, that's Windows, replacing the copy of Edubuntu that had previously been on there. The origins of the copies of Windows were a dubious, and one of the 3 working computers had a completely corrupted version that prevented it from booting. This is one of the major challenges faced with these deployments when you don't have constant on the ground staff (which we're working on getting), the people who end up maintaining the systems there tend to reinstall the systems with something they're familiar with – meaning Windows. We took the computers with us back to the hotel to get Edubuntu reinstalled so they could get all their educational software back.
We then went to the Ghana-India Kofi Annan Centre of Excellence in ICT. I wasn't familiar with the organization so I wasn't sure what to expect, but we were quickly blown away by their progressive, pro-open source agenda. At the core they are a technical training center, but they also host a lot of pro-open source events and a lot of their training is focused on open source (they also do some Oracle and other major certs). We also learned about the Free Software and Open Source Foundation for Africa (FOSSFA) meeting upcoming up on Saturday, which Beth Lynn decided to attend.
We met with Dorothy K. Gordon who related some stories about some of their own attempts at bringing in recycled computers for deployments, particularly with how challenging it was. Given costs on both ends, customs hassles and more they determined that it wasn't in their best interest to continue the desktop programs. She was quite interested in seeing terminal service deployments instead, which were generally cheaper to begin with and would help with security (much less likely for a single thin client to be stolen since it's somewhat useless on its own).
We also had the opportunity to see a central node for some of the country's network infrastructure that goes out to ITC centers, as well as one of the computing clusters that they've been using for weather analysis and other major projects. It was really fun hearing from their core Linux gurus who run everything there.
Following this visit it was off to lunch where I got to try my first Ghanaian disk: chicken and fufu with soup. We ate our food with our right hand and washed up at the table. Sadly I quickly discovered that I'm not the biggest fan of fufu! The chicken was great though, as was the fried plantain Nancy shared and the experience was certainly worth it!
We also had a chance to briefly meet with Hubert Akumiah who works with a Jubilee International Church branch in Ghana. He was more optimistic about handling customs hassles and sketched out the basics of a method for shipping we may use next time.
That evening we reimaged the Edubuntu machines with the PXE boot laptop imaging server that Dave brought along. I also spent some time debugging some of the issues on the Edubuntu installs we had related to web browsing, which turned out to be the firewall which we now have a plan to deal with. I think we'll also make sure Firefox is upgraded on all the machines, but I'll work more on that Saturday evening.
Sadly, my luggage has still not surfaced. It put quite the damper on my evening last night as I started to have to come to terms with the possibility that it wouldn't show up at all. This morning we're planning on heading over to a couple open air markets to do the tourist thing and so I can buy some clothes. We're also planning on seeing a few other sights today and then going to visit the Accra Linux Users Group later this afternoon. I mentioned that Beth Lynn would be attending the FOSSFA event, which was tempting, but after my bag woes I could really use a good ole tourist day.
Dave has written some about our first day here: Settled in on Oct 11, 2012
And Nancy's posts from our day: