Today we took the re-imaged laptops back to the Street Academy in Accra, Ghana so we could do some training. We were delighted to meet with three of the attendees from the Accra Linux Users Group we visited on Saturday who have volunteered to help maintain the deployment at the school.
The day began with a netbook being pulled out of the back which they asked us to put Edubuntu on it. Dave and I ended up spending a bit of time with it, trying to get around how finicky the hardware is, we ended up deciding to bring it back to the hotel for debugging. We then tried to get their HP Deskjet 1050 working with the built-in drivers, alas, I'll have to read through this thread later to see if we can get it going tomorrow.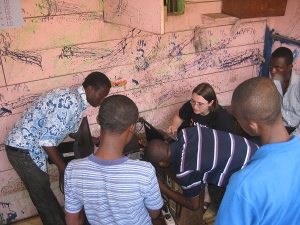 It was then time to work with the teachers! As the students broke for lunch at 11AM we sat down with some of the teachers and did some curiosity-driven loose training on Edubuntu itself and the applications. Nancy has done a spectacular job of going through the default educational games on Edubuntu 10.04 and writing a chart which matches up their functions with subjects and grade levels. We'll be refining this sheet, particularly as we update it for more modern releases, and publishing it somewhere in the Edubuntu space (wiki perhaps?).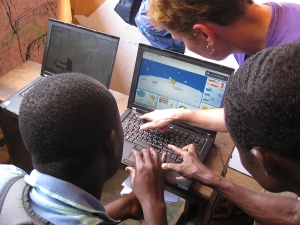 There was a bit of a break while the students got ready to leave the schools and the teachers and staff cleaned up, so some of the students came into the room we were using for training to see what we were up to. That's when one of the more boisterous ones asked to have his picture taken with me and I happily obliged: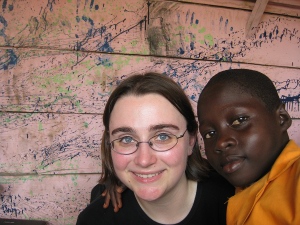 We then had some more training with the teachers. This time we went for a more systematic approach, sitting one-on-one with the teachers and working with them on the applications they were most interested in for their students and subjects. TuxMath was a big hit (isn't it always?). It was clear pretty quickly that I'm a sysadmin and not a teacher and Nancy did an amazing job here. I'd really like to see materials created so that even someone like me had a plan to follow. Maybe this is in the inspiration I needed to really get back into the Ubuntu Learning project.
Nancy's post about the day is here: Real Teaching Today!
Tomorrow we'll be heading back over to finish up a few things and meet with the Executive Director of the school again. We're delighted that the Accra LUG has stepped up to help with this school and that we now have more contacts on the ground to take care of them for the long term as we branch out to our other deployments across the country.
Tonight we worked on some of the desktops run by the administrators of the schools. Unfortunately hardware issues knocked 3 of the 4 systems out of our ability to fix (limited resources and time here at a hotel!) so we'll be asking the LUG folks to take a look at the hardware in the coming weeks.
Finally, for those of you reading on the Ubuntu Planet, hello from Ghana! I've been blogging about each day of my trip and our work deploying Ubuntu here in Ghana, but I haven't been cross-posting every post since they are quite mixed topic-wise (not all about Ubuntu), but if you want to catch up:
I'm here for another week, on Friday we'll be taking the 3-4 hour drive east to the town of Ho to spend a couple days and visit a center to check on one of the other deployments.