On November 24th we brought Simcoe in for her quarterly checkup, her last checkup had been on July 28th (I wrote about it here).
This visit was a few week later than quarterly due to our travel schedules, but she's been doing very well with the CRF treatment. She has been more vocal lately, but I suspect that's because she gets a bit upset with us traveling and working so much so we weren't too concerned. The exam went well, her teeth look good and she's even put on a several ounces since last time, She's now 9.68 lbs (4.39 kg)!
On Tuesday the vet called us with her blood work:
BUN: 44 (normal range: 14-36)
CRE: 3.0 (normal range: .6-2.4)
BUN stayed pretty constant since last time (was 45) and CRE has gone up a tad, previously at 2.6. Her phosphorous levels remain within normal ranges and her red blood count looks good. The vet was happy with her status, saying that while her condition will continue progress, it certainly has slowed considerably.
We've stopped being able to give her the fish oils that were prescribed but the vet was OK with that. We stopped with the soft food too because she's really doesn't seem interested in it. On the bright side she is happily eating the dry prescription food (Hill's Prescription Diet k/d Feline Renal Health) and rarely goes after Caligula's food any more.
All good news! Even if she still doesn't like going to the vet…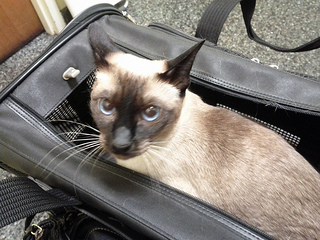 She's much happier tonight, relaxing with me on the couch.