Today was the last day of UDS. Ending a day sooner has been strange, but I'm spending my bonus day playing tourist tomorrow in Copenhagen.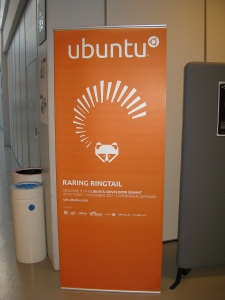 – Community Roundtable –
We were able to have some web design folks from Canonical in the session so we could discuss the community page on Ubuntu.com. They were able to tell us that the ommunity can provide content and web team can handle design, but they weren't able to commit to a timeframe to work on that. Instead, the proposal was made to create a separate site where community members can have access to editing and we will be creating a blueprint to spec this out. I'm really happy about going in this direction, onboarding new contributors is important and so I took a bunch of work here.
– Community IRC Workshops and Classrooms –
We have one of these sessions every cycle to sketch out the plans for the next Ubuntu Classroom events for the next cycle, paying close attention timing-wise for each event to the release cycle. Once those were sketched out, we also had some time to brainstorm what other classes outside of big events we'd like to have, including:
HaveLoCos come in and showcase some of their work
Session about the new localized ISO tracker
Bug squad sessions
QA/UTAH session (do this early in the cycle)
IRC Team "how-to" – team and channel structure, what channels we have, how they work (in user level)
Top 10 things to do after installing Ubuntu
Cloud/juju and charm school online
Enterprise-level sessions
Lightning talk session (like roundtables)
It would be great to see some of these happen during this cycle, the Classroom is so often empty between the major events.
Full notes from the session: community-r-irc-workshops
– Xubuntu: General planning for R (II) –
In our second session of the week we spent a fair amount of time on how we would grow the core project community by continuing to reach out to our users. We also discussed some of the marketing initiatives, including some proposals for the formats of flyers we wish to design and some updates to the website. There was also some talk about artwork and it was generally agreed that while more default background options would be nice, if we wish to stay CD-sized space is precious and we probably don't want to use it on those images.
Full notes here: community-r-xubuntu-planning-2
– Plenaries –
Today was lightning talk day! I did a 5 minute roundup of the work we did in Ghana.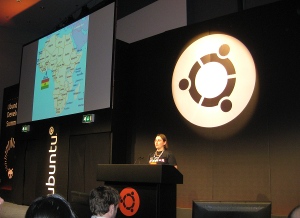 I uploaded the photos I used in the talk here: http://people.ubuntu.com/~lyz/ghana/
Other presentations included overlayroot demonstration, datamining in Ubuntu related to bug handling in launchpad: showing improvements, see chrisarges.net/papers.html for more, askubuntu review feature, kde home run, getting opengl code on mobile devices (see jogamp.org for more), testing competition testing and review of winners, tips on improving compiling speed: replace Make with Ninja, replace LD with Gold, use precompiled headers (see: voices.canonical.com/jussi.pakkanen), a couple fun apps: variety wallpaper changer and livewallpaper, the developer of gottengeography (which allows you to put photos on maps) talked about GExiv2 for Vala but with added python bindings with GObject Introspection, and wrapped up with a presentation on a juju charm to get a running steam server which games can then be deployed against.
We've been having an Ubuntu Women session at UDS for a few years now. While we do eventually get work items and a blueprint speced out, these sessions tend to lean more toward a great opportunity to meet women who are at UDS and can bring some fresh ideas and perspectives to the project. The main thing that came out of this session is the desire to do another big event this cycle where we give out prizes and get people excited about the project.
Full notes from the session here: community-r-ubuntu-women-project-goals
– LoCo Council –
A team brought up an issue with re-approval troubles and a team asked whether it was OK if their team doesn't grow – yes, not all teams grow all the time.
Talked about some ideas for checking in with teams, perhaps encouraging them by offering help and showcasing their work, events and photos on the LoCo Council blog. Talked some about how regions should be encouraged to collaborate (ie United States, Scandinavia). Also discussed the proposal for having more state-based LoCos beyond just the United States.
And with that – UDS sessions were done! The closing plenary was the last thing on the schedule where track leads talked about what decisions were made at UDS.
The closing party was at Rosie McGee's and we got a fun photo of the Xubuntu team: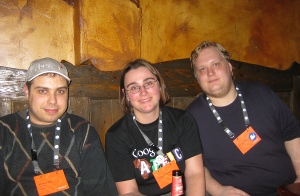 It's after midnight now, off for tourist things in the morning!