We ended up having a busy weekend. Saturday and Sunday we spent planning a trip to Philadelphia at the end of the year, selecting florists to visit and starting to line up appointments for tastings and with a DJ. I also ordered some sample wedding invitations. I was feeling so satisfied with what we accomplished when MJ reminded me that we still have a honeymoon to plan. Oh bother!
Saturday evening we headed out for dinner and the serpentine belt went on the car, leaving us waiting for a tow truck. Oh, cars. Fortunately we weren't that far from home and were able to find dinner at a nearby place on our way home. I've been so busy and stressed out these past few weeks it was interesting how easily I was able to handle the situation, for once my mind immediately went to "aw, it's ok, we can handle this" and we had a fine evening anyway.
Sunday I headed out to Berkeley and met up with the BerkeleyLUG folks before heading off with Grant Bowman to put some finishing touches on the Partimus Mission Statement proposal. We've been working our way through the proposed steps in The Fieldstone Alliance Guide to Crafting Effective Mission and Vision Statements, and while the process isn't short, it's been a really interesting exercise for our organization.
Sunday night we had some errands to run, including picking up a new battery for the Mac Book Pro, which was an interesting experience. I don't care for most Apple products so this foray into Apple-land is bound to be strange for me, but the store really wasn't a pleasant experience at all. You need an appointment for someone to look at a laptop – even for a simple battery replacement and advice about upgrading the software. We managed to just buy the battery there and for now are just grabbing the Snow Leopard version of OSX. In spite of the software situation, the hardware is pretty nice, the previous owner upgraded the RAM to 4G and put a 500G harddrive in it.
We had dinner at Burger Bar over Union Square where we got a window seat and could enjoy the holiday lights and watch to watch the ice skaters.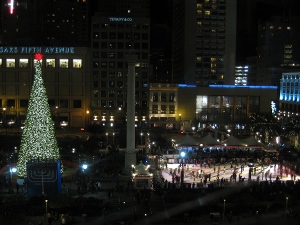 This evening I spent some time working to get a draft post out to the Ubuntu Learning mailing list in an effort to get some of that discussion rolling again. I'd really like to see the training materials reach a state where we can use them at our Partimus schools and ship out .pdf versions to the schools in Ghana. There's certainly a lot of interest in the project and I'm hoping that with minimal effort I can get a team rolling and then let the experts in course development take over.
Never a dull moment, tonight I'm packing to leave for San Diego very early in the morning. I'll need to catch the first BART train of the morning to get me to the airport in time for my 6:59AM flight. Just writing about it makes me tired :)