This past weekend 3 friends and I spent a the three day weekend in Las Vegas!
Picking the hotel was the easiest. Since this was a trip without MJ, I decided to go for one that I knew he wouldn't be interested in going to, the Flamingo! It's an older hotel, right in the middle of the Las Vegas strip and quite pink. Perfect.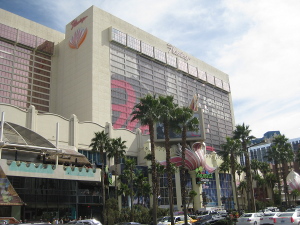 We all flew in on Saturday and secured adjoining rooms at the hotel. I first met up with Cheri, whose flight came in around the same time as mine, and later Danita and Crissi. Our first night there we enjoyed a buffet dinner and Mystere, the Cirque du Soleil at Treasure Island.
After the Cirque show we went to see the fountains at the Bellagio and then it was off to to probably my favorite show of the weekend, Evil Dead the Musical 4D! Danita found it prior to our trip and we were able to get tickets the night before. Upon arrival we made the fun move of upgrading to the "VIP Splash Zone" tickets which got us t-shirts and 2nd row seats, and covered in fake blood…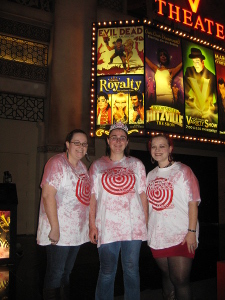 Fortunately it all came out of the clothes I was wearing under the t-shirt! It did take a couple of showers to get it all off our skin though, the first of which was at 2:30AM when we returned to the hotel.
Saturday we went adventuring on the strip, visiting several of the theme hotels and doing a fair amount of touristy shopping and getting our pictures taken, though I was quite disappointed to learn that the MGM Lions were gone. It was then off to embark on unusual behavior for me – Crissi and Danita who also were not only willing, but encouraging me to go dress shopping while we were there so they could help me find things that would look good. It ended up being probably my most enjoyable and successful clothes shopping trip ever, I walked out with 10 dresses I really like, which is pretty amazing for me!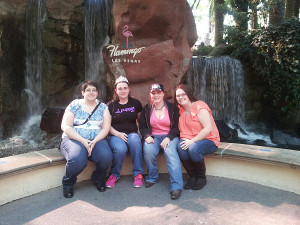 We stayed through Monday (Presidents' Day) and spent the morning with more buffet food and a trip over to Siegfried & Roy's Secret Garden & Dolphin Habitat over at the Mirage where the have dolphins and several big cats. Then it was time to go home, the weekend flew by much too quickly.
More photos from the trip are here: http://www.flickr.com/photos/pleia2/sets/72157632815496389/