Since we had our wedding on the east coast we decided to also host an event on the west coast for friends here, many of whom couldn't make it across the country for the wedding itself.
It took some time to plan, but last Saturday we finally had our event! We ended up going with EPIC Roasthouse on the Embarcadero as the venue, as we'd been there several times ourselves and the location right next to the Bay Bridge made for a beautiful view during the day and at night. We scheduled the event to begin at 6PM so our guests could enjoy the bay in the sun and also as the evening wore on could see the Bay Lights display on the bridge. We also did a quick once through of our wedding photos and had a few books of photos printed up to place on the tables so people could see some of our wedding photos.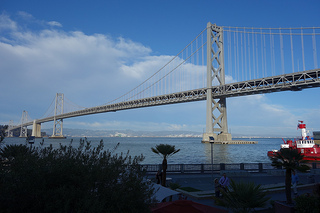 From my perspective, evening went beautifully. I was able to meet some more of MJ's colleagues and it was great to see some of my friends I hadn't seen in a while (particularly with this crazy year, wedding + new job has caused quite the busy schedule!). My cousin who lives here in San Francisco was also able to join us, which was a nice treat since he couldn't make it to the wedding either.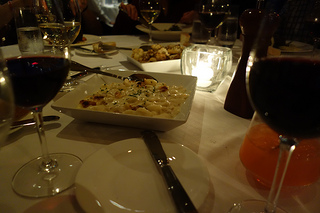 I was curious as to whether the food for an event would be on par with what we got in the restaurant, but it absolutely was. We had a limited menu that we selected for the event that people were able to order from (plus a vegetarian option). We also ended up staying about an hour past the end time for the event when they stopped serving just to catch up with people.
And with the end of the event, we wrapped up our final formal celebration of our wedding. Huge thanks again to all our friends and family who were able to join us. Now to finish those thank you cards and get our wedding photos online!
More photos from the event here: http://www.flickr.com/photos/pleia2/sets/72157635129113141/