I was finally in my home city of San Francisco for an Ubuntu release (why are Octobers so crazy?) so I was able to put together a small event for the release of Ubuntu 13.10 (Saucy Salamander).
The night before I pulled out the nail polish and nail decals from System76 to get into the spirit of things.
At 6:30 I arrived at Panera Bread to get set up.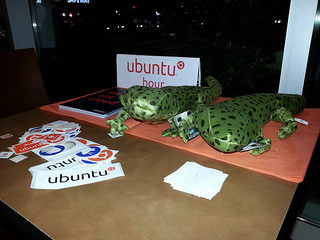 I brought along my pair of salamanders, one of which would be auctioned off, I also brought along a copy of the Official Ubuntu Book to give away.
In all we had 5 total attendees, which made for the smallest turnout I've ever had for a release party, but made for a great number for conversation. I was able to show off the features of the new Smart Scopes in Unity on my laptop and verbally share some updates from the world of Xubuntu. We also got to learn about some of the latest improvements in MoinMoin from a developer who joined us and about some of the other recent projects being worked on by attendees.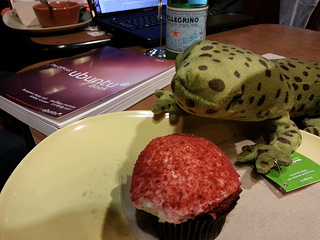 Saucy got a birthday cupcake
It was also great to see interest in the Ubuntu Phone from a couple of folks who happened to be having coffee nearby. They asked us about the progress of the Ubuntu Phone codebase (released today!) and we commiserated over the inability of Ubuntu Edge to reach the funding goal.
For 14.04 we hope to do something bigger, we're seeking to partner with one of the many businesses in the area tat use Ubuntu to do more hands on demos and more formal demonstration of the new features. Stay tuned for updates on that coming in the spring.