Last week I was approached by the author of the ZHackers series, David Jordan, to see if I wanted to review volumes 1 and 2 in preparation for the release of volume 2 in the Ubuntu Software Center. With his promise of "It's got awesome geeks of both genders as well as downloading the linux kernel for the purpose of surviving the zombie apocalypse" how could I resist? He sent copies my way and I loaded the duo up on my NOOK.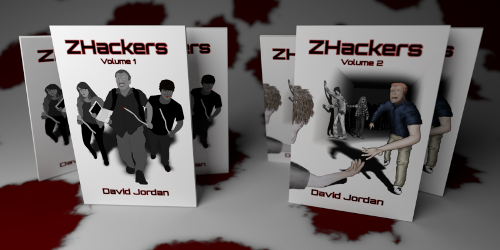 They were both a lot of fun. I was very amused to see that the story takes place on the campus of the University of Illinois Urbana-Champaign, where I just spoke for a conference. It was amusing to watch the characters navigate the reality of a zombie outbreak, as they are all aware of zombie popular culture and made many references to it, particularly during their struggle to convince people that it was real and in making plans (don't go to the grocery store!). I absolutely did appreciate the geekiness of the volumes too, they're using Ubuntu and have a very college geek way of handling themselves so I often found myself saying "why on earth would they…? Actually, that's what I'd expect from college geeks."
However it's good to be aware that they aren't complete stories, volume 1 will leave you wondering what happens next in volume 2 which continues the story, and volume 2 does the same. I did find some minor grammatical issues which made me wish the book had a bug tracker (hey, it's a .deb!) but reporting directly to the author via email was easy enough. I'd also mention that as a geek I appreciated the technical references, and some were explained, but my average cousin wouldn't know what to make of the phrase "Daniel logged off of IRC" even though it's obvious to me.
You can purchase both volumes via the Ubuntu Software Center:
And they are generously licensed Creative Commons – Attribution Share Alike, so you can share with your friends!
It was also cool to see that volume 2 came with some bonus features, including a 3D version of the cover and a short story. It got me thinking a bit more about self-publishing in the Ubuntu Software Center and how it's been opening doors for niche authors and given opportunity to expand content that's shipped with an ebook.