I've had a busy weekend! On Friday night I headed over to the San Francisco Hub for a CloudCamp Social Good Hackathon sponsored by HP Cloud (my employer) and Intel.
The event kicked off with an introduction, including words from Dave Nielsen where he spoke about CloudCamps and touched upon how HP Cloud uses OpenStack and works in the OpenStack community. As part of the sponsor team, I wasn't participating in the hackathon teams, but it was my job for the evening to make sure folks could get signed up for their HP Cloud accounts and use the promo code for the event. It was really cool to see the HP Cloud Horizon interface being used. Hooray Horizon!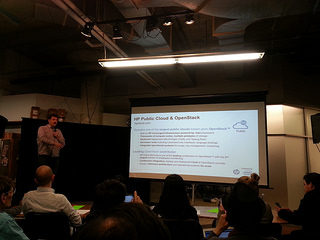 It was a great experience for me to get out of my infrastructure and development mindset and see all the work we do with OpenStack paying off in powering the servers that developers are using to build real applications. The Hackathon itself was also inspiring because all of the projects were for social good, from finding mental health resources to helping to solving the pipeline problem related to women in STEM.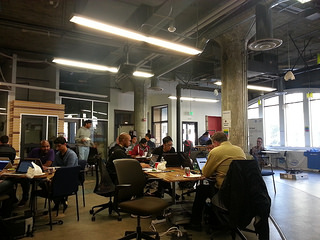 Sunday I was able to have some great chats with colleagues and others about how OpenStack cloud platforms could better serve the application developers. It's clear that some of the terms that systems administrators and infrastructure developers are very different from the world of application development, and some of the concepts can be confusing. I see a fair amount of people using file sharing services to move files where it seems to me a proper object store with an API would be optimal.
I didn't attend on Saturday due to my previous commitment to host Ubuntu User Days. Over the past several weeks, Jose Antonio Rey and I have searched the community for volunteers to give user-level classes in the Ubuntu Classroom IRC channels for our day of sessions. I was keen to make this event a success after missing one for raring, but we kept the schedule to only 9 full sessions so it was manageable and we maintained the quality we were seeking in instructors and sessions.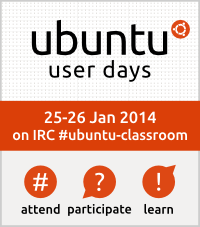 I'm happy to report that we didn't have any last minute cancellations, no shows or timezone mix-ups! The instructors were all talented and professional and made for a series of sessions that we should all be proud of.
Session logs were made available directly following each session:
Huge thanks to all the community members who participated in this event.