I like the color pink. Over the years I've collected lots of pink electronics that have measured up to their non-pink counterparts, from pink ethernet cables (hey, that's my photo on Gizmodo!) to my pink netbook that has traveled the world with me (frequently still seen at Ubuntu Hours, always came along to Ubuntu Developer Summits and recently was at the OpenStack Summit in Hong Kong).
Keyboards have always been tricky though. Ones that come in pink tend to be princess or Barbie themed for little girls, which means they are either too small or of poor quality. I have found some larger, adult-ish pink keyboards, but they have never been mechanical, which is my strong preference. I'm on my keyboard all day, a good keyboard is important.
Then my friend Karen McLoughlin Largent posted a picture of her custom-colored keyboard from WASD Keyboards. It was pink! And mechanical! Be still my heart!
I went with the WASD V2 104-Key Custom Mechanical Keyboard with Cherry MX Blue switches (though Brown was also a contender), no sound dampeners, and all the keys in pink, with Classic layout and function keys, just like my current IBM keyboard.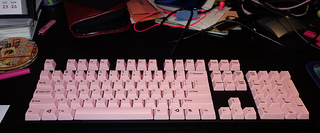 I was going to crop my messy desk, but if you look close, I have the following pink items peeking into this photo: pen, mini swiss army knife, earbuds, USB cable, USB stick
Oh, and the final thing that made me spend over $150 on a keyboard? They let you have a custom OS key, and Ubuntu (as well as Linux Tux) were part of their default options.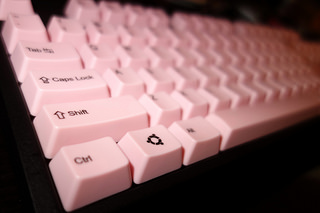 Even better? I live near where they put them together, so I ordered it Wednesday and with no rush and standard shipping I was plugging it in to my computer on Saturday.
I love it. It's much more clicky than the Model M successor IBM keyboard that I had previously used, which had dampeners, but after an hour I was quite at home with my noisy new friend. Hooray!