At the Ubucon at Southern California Linux Expo on Friday, February 21st I'll be doing a presentation on 5 ways to get involved with Ubuntu today. This post is part of a series where I'll be outlining these ways that regular users can get involved with while only having minimal user-level experience with Ubuntu.
Back in 2007 I joined the Ubuntu Pennsylvania team and kicked off my work as a local Ubuntu advocate. Our first projects back then included an installfest in collaboration with a local recycling facility, deployment of Ubuntu systems for a girls organization and the launching of an LTSP-based project for an adult learning center.
Over the years, I've continued with my passion for promoting Ubuntu and its various flavors (particularly Xubuntu) through local teams, presentations and community-developed promotional materials. You can too!
LoCo Teams
Ubuntu Local Community (LoCo) teams are regionally-based groups of Ubuntu advocates and supporters who get together in order to support users in their geographical region and promote Ubuntu in their local area with groups and at conferences.
Over the years I've had the pleasure of participating in various events by LoCo teams. In 2009 I was invited to present at the Ubuntu Release Event in Waterloo, New York. While traveling in 2010 I got off my flight and attended the release party put on by the Ireland team for Maverick Meerkat in Dublin.
In my own teams (Pennsylvania, and now California) I've participated in a variety of events, including:
Training for a deployment for girls in Philadelphia (and brief impromptu chat about being a woman in tech) in 2007: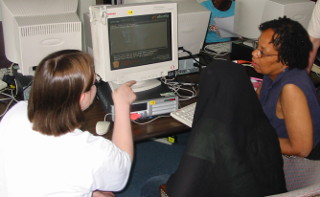 Staffing a booth at the Central Pennsylvania Open Source Convention (CPOSC) in 2009: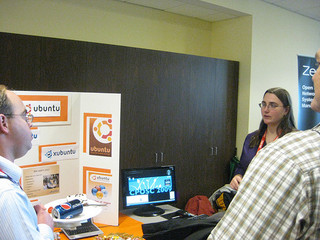 Staffing a booth at the outdoor community event, Solano Stroll, in Berkeley, California in 2011: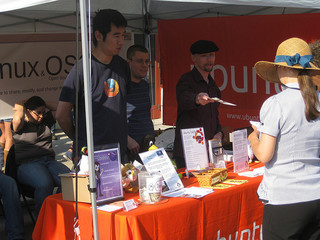 And a booth at the Southern California Linux Expo in 2013 (another one is coming up this week!):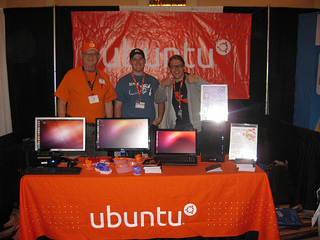 I have really enjoyed working with LoCo teams and would like to impress upon anyone reading this: Anyone can help with a team. Teams from all over the world are listed over on http://loco.ubuntu.com/teams/ and even if your team isn't all that active right now, you can jump right in and help out. When I began contributing to my team in Pennsylvania I'd only been using Ubuntu for a couple years on a laptop (not even on my main system!) and hadn't really spent a lot of time in the community, within a couple of months I was not only helping organize events, but also presenting at events.
Presentations
This article is the final one in a 5 part series that I'm writing leading up to the Southern California Linux Expo where I'll be presenting at the Ubucon. I've been presenting at Ubucon for the past several years on various topics from community involvement to running OpenStack on Ubuntu – and you can too!
Up on SpreadUbuntu I have uploaded my Introduction to Ubuntu talk that I frequently give at a local IT Tech class on Linux. I've shared it so others can take, adapt and present themselves:
http://spreadubuntu.org/en/material/presentation/introduction-ubuntu
I'm currently excited to see a colleague in the Ubuntu community is currently doing just that so he can add in a tour of Unity using this slide deck as a base.
Giving presentations at LUGs around release time or at conferences is a great way to get out there and directly talk to folks about Ubuntu. Topics are wide open, from introduction an to Ubuntu, your favorite tips about effectively using Unity or talking about the latest features that users can anticipate in the new release.
Also, giving presentations isn't that scary. Just make sure you prepare in advance and practice, you'll be ok :)
Promotional Material
I have pretty much no artistic talent, but back in 2010 I asked my friend Martin Owens to create a poster that I could use for an upcoming conference and he really came through with a "Reasons to Love Ubuntu" poster that I continue to use to this day, available here:
http://spreadubuntu.org/en/material/poster/reasons-love-ubuntu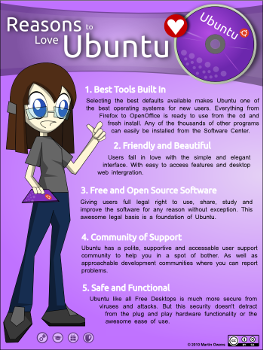 This year I worked with Pierre van Male of the StartUbuntu project who developed a flyer for their project. I pulled in the artistic talents of Pasi Lallinaho of the Xubuntu team and together we created a version of the flyer that we're using to promote Ubuntu and Xubuntu, I've printed out a pile of them to bring along to a conference this week:
You can download the source here:
http://spreadubuntu.org/en/material/poster/startubuntu-xubuntu-flyer-us-letter (US Letter)
http://spreadubuntu.org/en/material/poster/startubuntu-xubuntu-flyer-a4 (A4)
It's also been translated into a few other languages, see this recent Xubuntu website post for more.
As you can see, I'm linking to SpreadUbuntu.org throughout this post. It's a great resource for sharing posters, flyers, presentations and more between teams and I use it a lot for my own materials. Unfortunately a lot of the content is out-dated and I think the site has largely lost interest by most of the community. I'd love to see others using this resource more!
Finally, there's the Ubuntu Advocacy Kit, a project that I'd like to see really take off. Currently it's pretty limited in content, but with a handful of dedicated contributors it could be turned into a really valuable resource for the whole community, so if you're interested in materials and advocacy, have a look at that project.
Previous posts in this series