On Friday, February 21st I gave my talk on 5 ways to get involved with Ubuntu today at the Southern California Linux Expo's Ubucon.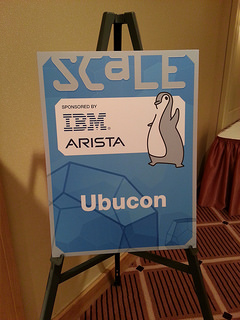 I had a great audience who I was able to have some wonderful and inspiring chats with following my talk. There's clearly a lot of interest in further involvement by user-level contributors, so I'm happy that the work I've been doing to improve on-boarding for projects I participate in will be valuable.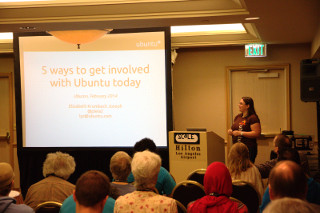 I've uploaded slides from the talk here: 5WaysToGetInvolvedWithUbuntuToday.pdf
You can also browse the companion blog posts I've been writing these past couple weeks leading up to the conference:
I really enjoyed the experience, huge thanks to Richard Gaskin for delivering another great Ubucon.
Finally, the Ubuntu booth put on by members of Ubuntu California has really been doing well this weekend, so thanks and congratulations to everyone who has been participating.