Since I've had over a month between trips and MJ has been working a lot, I hunkered down these past few weeks and did my best to catch up with a lot of the little stuff that slips during times of intense travel schedules. It hasn't all been easy though, I've been working with my doctor to address some fatigue issues, where we've been seeking to tease out what is proper exhaustion (doing too much, who me?) and what is not (I want to sleep for 12 hours a day, what the heck?). There is a fair amount of both. I also decided to start week 6 of Couch-to-5K over after 5 days of rain gave me a great excuse to give it a pause. Happy to report that week 6 has now been completed, yesterday I ran, albeit slowly, for 25 minutes in a row! I'm feeling it today ;)
I've been catching up on my reading some too. I've been making my way through The Secret Thoughts of Successful Women, which has been really valuable and I'm enjoying. I've been challenging myself with The Revolution Starts at Home, which is a fascinating read but requires me to leave my comfort zone and listen to stories and reflections from people whose lives I don't really understand and frequently struggle to identify with. For fun I picked up Abominable Science because I would totally be a cryptozoologist if I wasn't such a skeptic. My magazine pile is also shrinking, I'm at least to the point where all of them are from 2014 and my brain is now full of cool science news.
During the great 5 day downpour of 2014 I didn't stay home, as tempting as it was. On Sunday afternoon after the Sharing the Beauty architecture class (which I wrote about here), I met up with my friend Steve to finally check out the de Young Museum in Golden Gate Park. It's one of the few major museums in the city I hadn't yet been to, so in spite of the rain we made the trek across the city to visit. We skipped the special exhibition and did a tour of the whole permanent collection. I was particularly happy to see one of Edward Hicks' version of The Peaceable Kingdom. I've seen another at the Philadelphia Museum of Art and have a print of his Noah's Ark (which I also saw in Philly) hanging in our condo. He's one of my favorite artists, there's something captivating about his paintings, particularly of animals.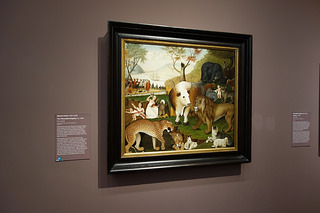 While MJ was travelling for work this week, I also had the opportunity to have a few other meals with friends. I love working from home but I do find loneliness creeping in, particularly since events I do go to have more than a handful of people and trigger my shyness, making them exhausting. One on one meals with friends are much better, I should do more of them.
But in bigger meals, it was fun to have the San Francisco Ubuntu Hour and Bay Area Debian dinner this week. Most of the attendees were the usual suspects who I love spending time with, but at the Debian dinner we were also joined by Tollef Fog Heen who in town and able to make our discussion about the init system debate in Debian much more interesting as he is someone who was directly involved.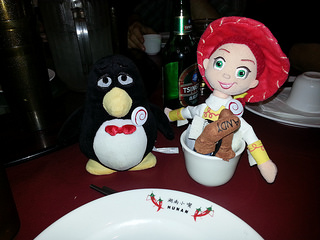 I mentioned earlier in the month that we've been working to treat Caligula's strain of pseudomonas which has turned him into a sniffly furball. Unfortunately, while they appeared to work at first, the latest round of antibiotics were also ultimately not effective. We'll need to follow up with the vet to see where to go from here, as Simcoe has also been sneezing. Poor critters.
In conference news, I'm spending a lot of time today prepping for SCaLE12x, which I'm flying out for on Thursday. In addition to the two talks I'm already scheduled for, I also agreed to do a third, 30 minute talk at 3:30PM on Friday on Open Source Systems Administration in the Infrastructure.Next track. I'm also happy to report that my Code Review for Systems Administrators talk at LOPSA-East was accepted! So I'll be heading back east in early May (or late April, we've been discussing spending our wedding anniversary in Philly).
And so March doesn't feel left out, my trip to Maine to visit my sister, nephew and mother is booked. I'll be flying out on the 15th and spending a week at my sister's place. I'll be working while I'm there, but simply spending time with my family will be nice. Also hoping to swing by a few of my favorite places, including L.L. Bean down in Freeport.
Finally, this weekend was Valentine's Day weekend and yesterday was the anniversary of my move to San Francisco. Unfortunately due to the bad weather on the east coast, MJ's Thursday flight was cancelled and the first flight he had on Friday was delayed, causing him to miss his connection and ultimately not make it home until almost midnight on Valentine's Day. He did send me roses though, which I am continuing to enjoy!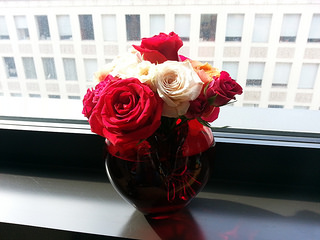 Anticipating the potential issue with making it home on time, I took to twitter and was subsequently contacted by a reporter who I had a chat with. She was working on a story about storm delays around holidays, and the result is here: Stormy Weather Again Hampering Holiday Flights. That Elizabeth Joseph is me, and we did indeed miss our fondue dinner on the first Valentine's Day as a married couple! Fortunately we were able to get reservations at The Melting Pot last night instead and they still had their yummy Valentine's day menu.