This past week I've had the opportunity to join two separate Linux Users Groups (LUGs) to give presentations on the Ubuntu 14.04.
The talks were a full talk version of the mini talk I gave at the release party in San Francisco last month, covering:
Unity Desktop
Server
Phablet
Xubuntu
I'm a member of the Xubuntu team and use it primarily myself, which is why that flavor got special treatment ;)
The first talk was on Saturday for FeltonLUG down near Santa Cruz. Since I had a series of laptops already installed and set up from when we did the release party , I packed them up and brought them along with me.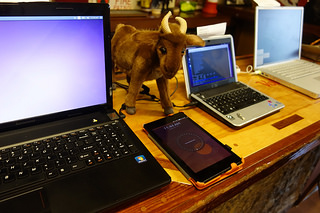 We had a small group, so the meeting was a bit more on the informal side and folks had a lot of great questions and comments throughout the presentation. Given the group size it was also possible to have everyone give my Nexus 7 with Ubuntu on it a try, which folks had a lot of questions about.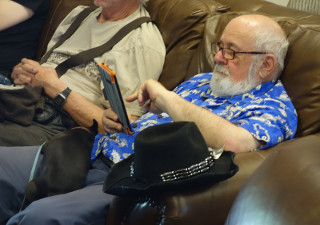 Thanks to Bob Lewis and Larry Cafiero for being such great hosts, at their scenic drive recommendation my husband and I had a wonderful trip up route 1 along the coast on our way home.
Last night I joined BALUG here in San Francisco. I brought along my trusty tahr and pile of demo laptops for this presentation as well.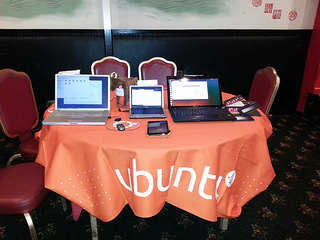 In addition to the great questions about the direction of Ubuntu in general (desktops! servers! clouds! tablets! phones!) I was really happy to have server folks in my audience for this talk who were eager to hear about the changes to virtualization technologies and such on the server side. I even was able to have a chat with a sysadmin who is doing a lot of virtualization and told me that her team is looking at deploying OpenStack in the near future.
Slides from both presentations are available online, the BALUG one includes some screenshots from Xubuntu since I was using a Unity-based laptop to present there:
The .odp versions of these slides are also available, just swap out .pdf for .odp in each url.