MJ has been traveling a fair amount lately, so I've been working harder to meet up with friends, which I don't do nearly enough. I had brunch with a friend just before Memorial day, and ended up at The View for drinks and dessert with a couple who just moved into town last Sunday. This week I was able to meet up with my old friend Mark down in the Mission to chat about life and enjoy some foods that were much too greasy for my own good (and quickly learned I should be avoiding right now, oops!).
Before leaving on his last trip, we were able to meet up with my cousin Melissa who was in town for an event, and my in-town (for now) cousin Brendan who I manage to only meet up with when other relatives are in town. We ate over at Fang before inviting them up to our condo for a bit.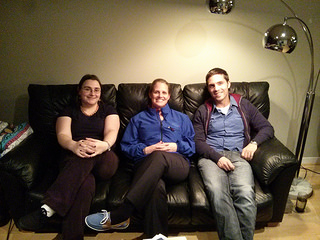 After MJ left on his trip, I was looking to take a walk and decided to head over to the San Francisco Zoo to finally renew my membership and visit some of their new critters. My first stop was Tenzing, their new Red Panda! He popped out for a few minutes and then I had to return after a loop around that part of the zoo to return to him wandering around his enclosure.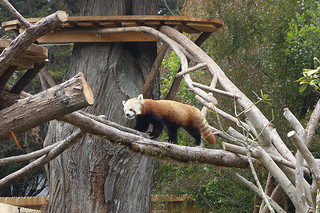 From there I went over to visit one of their newest babies – a baby Patas Monkey! They are probably my favorite monkeys at the zoo, so getting to see a baby was pretty awesome, especially once he stopped being latched to his mother and wandered around a bit on his own. So cute.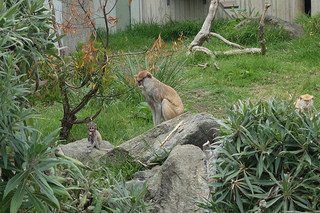 More photos from my short zoo visit here: https://www.flickr.com/photos/pleia2/sets/72157644958797102
I still need to visit the baby peccaries before they get too big and see if I can get a glimpse of the two-toed sloth that's living in the Lion House.
Work has been busy, but continues to be enjoyable. I mentioned in a previous post that I regretfully had to miss the OpenStack Summit in Atlanta due to being sick, but some of my awesome colleagues sent me a small gift and post card. I also have more travel coming up this week. On Thursday I fly to Austin to speak at the Texas Linux Festival, which I've been hearing great things about for years but never had the opportunity to attend until now. From there, I'll be flying to Zagreb, Croatia to participate in DORS/CLUG 2014 where I will be giving a keynote on the Continuous Integration system for OpenStack developers and also participating in a Women in Tech panel with Ana Mandić, Jasna Benčić and Lucija Pilić.
Other than that, health stuff has taken up much of my time as my abdominal pain continues and I have to avoid alcohol and fatty/fried foods to keep the pain in check. On the bright side, this means I'm now eating healthier! I've gone in for 2 major diagnostic tests, both of which came back inconclusive. I'm continuing to work with doctors and will be making an appointment with a surgeon soon to see about my options for removing organs-I-don't-need-but-may-be-causing-pain. Given my travel schedule this year, I'm terribly stressed about the timing of all this and hope that we find the cause and can solve it quickly and efficiently with limited recovery time, as I'm planning to travel again in July.