The OpenStack Infrastructure team has a pretty big bug collection.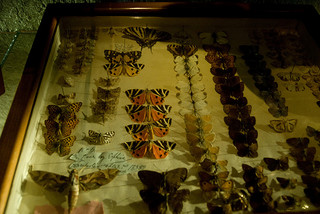 Well, not literal bugs
We've slowly been moving new bugs for some projects over to StoryBoard in order to kick the tires on that new system, but today we focused back on our Launchpad Bugs to par down our list.
Interested in running a bug day? The steps we have for running a bug day can be a bit tedious, but it's not hard, here's the rundown:
I create our etherpad: cibugreview-august2014 (see etherpad from past bug days on the wiki at: InfraTeam#Bugs)
I run my simple infra_bugday.py script and populate the etherpad.
Grab the bug stats from launchpad and copy them into the pad so we (hopefully) have inspiring statistics at the end of the day.
Then comes the real work. I open up the old etherpad and go through all the bugs, copying over comments from the old etherpad where applicable and making my own comments as necessary about obvious updates I see (and updating my own bugs).
Let the rest of the team dive in on the etherpad and bugs!
Throughout the day we chat in #openstack-infra about bug statuses, whether we should continue pursuing certain strategies outlined in bugs, reaching out to folks who have outstanding bugs in the tracker that we'd like to see movement on but haven't in a while. Plus, we get to triage a whole pile of New bugs (thanks Clark) and close others we may have lost track of (thanks everyone).
As we wrap up, here are the stats from today:
Starting bug day count: 270
31 New bugs
39 In-progress bugs
6 Critical bugs
15 High importance bugs
8 Incomplete bugs
Ending bug day count: 233
0 New bugs
37 In-progress bugs
3 Critical bugs
10 High importance bugs
14 Incomplete bugs
Full disclosure, 4 of the bugs we "closed" were actually moved to the Zuul project on Launchpad so we can import them into StoryBoard at a later date. The rest were legitimate though!
It was a busy day, thanks to everyone who participated.