I got my first MP3 player in 2006, a SanDisk Sansa e140. As that one aged, I picked up the SanDisk Sansa Fuze in 2009. Recently my poor Sansa Fuze has been having trouble updating the library (takes a long time) and would randomly freeze up. After getting worse over my past few trips, I finally resigned to getting a new player.
As I began looking for players, I was quickly struck by how limited the MP3 player market is these days. I suspect this is due to so many people using their phones for music these days, but that's not a great option for me for a variety of reasons:
Limits to battery life on my phone make a 12 hour flight (or a 3 hour flight, then an 8 hour flight, then navigating a foreign city…) a bit tricky.
While I do use my phone for runs (yay for running apps) I don't like using my phone in the gym, because it's bulky and I'm afraid of breaking it.
Finally, my desire for an FM tuner hasn't changed, and I'm quite fond of the range of formats my Fuze supported (flac, ogg, etc).
So I found the SanDisk Clip Sport MP3 Player. Since I've been happy with my SanDisk players throughout the years and the specs pages seemed to meet my needs, I didn't hesitate too much about picking it up for $49.99 on Amazon. Obviously I got the one with pink trim.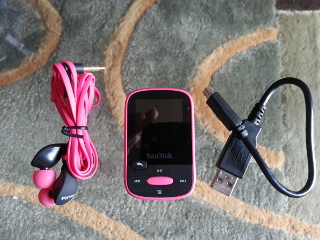 I gave the player a spin on my recent trip to Philadelphia. Flight time: 5 hours each way. I'm happy to report that the battery life was quite good, I forgot to charge it while in Philadelphia but the charge level was still quite high when I turned it on for my flight home.
Overall, I'm very happy with it, but no review would be complete without the details!
Cons:
Feels a bit plasticy – the Fuze had a metal casing
I can't figure out how it sorts music in file view, doesn't seem alphabetical…
Pros:
Meets my requirements: FM Tuner, multiple formats – my oggs play fine out of the box, the Fuze required a firmware upgrade
Standard Micro USB connector for charging – the Fuze had a custom connector
File directory listing option, not just by tags
Mounts via USB mass storage in Linux
Micro SD/SDHC expansion slot if I need to go beyond 8G
We'll see how it holds up through the abuse I put it through while traveling.