Last night I learned the worst kind of news, my friend and valuable member of the Linux community here in San Francisco, Eric P. Scott (eps) recently passed away.
In an excerpt from a post by Chaz Boston Baden, he cites the news from Ron Hipschman:
I hate to be the bearer of bad news, but It is my sad duty to inform you that Eric passed away sometime in the last week or so. After a period of not hearing from Eric by phone or by email, Karil Daniels (another friend) and I became concerned that something might be more serious than a lost phone or a trip to a convention, so I called his property manager and we met at Eric's place Friday night. Unfortunately, the worst possible reason for his lack of communication was what we found. According to the medical examiner, he apparently died in his sleep peacefully (he was in bed). Eric had been battling a heart condition. We may learn more next week when they do an examination.
He was a good friend, the kind who was hugely supportive of any local events I had concocted for the Ubuntu California community, but as a friend he was also the thoughtful kind of man who would spontaneously give me thoughtful gifts. Sometimes they were related to an idea he had for promoting Ubuntu, like a new kind of candy we could use for our candy dishes at the Southern California Linux Expo, a toy penguin we could use at booths or a foldable origami-like street car he thought we could use as inspiration for something similar as a giveaway to promote the latest animal associated with an Ubuntu LTS release.
He also went beyond having ideas and we spent time together several times scouring local shops for giveaway booth candy, and once meeting at Costco to buy cookies and chips in bulk for an Ubuntu release party last spring, which he then helped me cart home on a bus! Sometimes after the monthly Ubuntu Hours, which he almost always attended, we'd go out to explore options for candy to include at booth events, with the amusing idea he also came up with: candy dishes that came together to form the Ubuntu logo.
In 2012 we filled the dishes with M&Ms: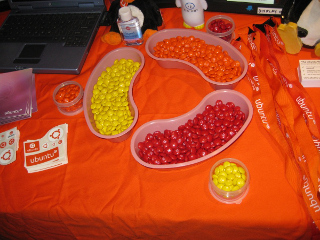 The next year we became more germ conscious and he suggested we go with individually wrapped candies, searching the city for ones that would taste good and not too expensive. Plus, he found a California-shaped bowl which fit into our Ubuntu California astonishingly theme well!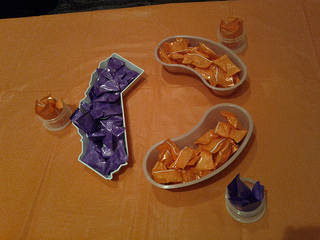 He also helped with Partimus, often coming out to hardware triage and installfests we'd have at the schools.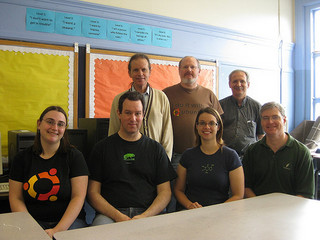 At a
Partimus
-supported school, back row, middle
As a friend, he was also always welcome to share his knowledge with others. Upon learning that I don't cook, he gave me advice on some quick and easy things I could do at home, which culminated in the gift of a plastic container built for cooking pasta in the microwave. Skeptical of all things microwave, it's actually something I now use routinely when I'm eating alone, I even happened to use it last night before learning of his passing.
He was a rail fan and advocate for public transportation, so I could always count on him for the latest transit news, or just a pure geek out about trains in general, which often happened with other rail fans at our regular Bay Area Debian dinners. He had also racked up the miles on his favorite airline alliance, so there were plenty of air geek conversations around ticket prices, destinations and loyalty programs. And though I haven't really connected with the local science fiction community here in San Francisco (so many hobbies, so little time!), we definitely shared a passion for scifi too.
This is a hard and shocking loss for me. I will deeply miss his friendship and support.