MJ and I spent the first week of September in New Jersey and Pennsylvania. During our trip we visited with an ailing close relative and spent additional time with other family. I'm really thankful for the support of friends, family and colleagues, even if I've been cagey about details. It made the best of what was a difficult trip and what continues to be a tough month.
It was also hot. A heat wave hit the northeast for the entire time we were there, each day the temperatures soaring into the 90s. Fortunately we spent our days ducking from the air-conditioned car to various air-conditioned buildings. Disappointingly there was also no rain, which is one of the things I miss the most, particularly now as California is suffering from such a severe drought.
We made time for a couple enjoyable evenings with friends. Our friend Danita met us downtown at The Continental in Philadelphia before we spent some time chatting and walking around Penn's Landing. Later in the week we had dinner with our friend Tim at another of our favorites, CinCin in Chestnut Hill. On the New Jersey side we were able to have lunch with our friends Mike and Jess and their young one, David, at a typical local pizzeria near where we were staying. These are pretty common stops on our trips back east, but when you can only make it into town a couple times a year, you want to visit your favorites! Plus, any random pizzeria in New Jersey is often better and cheaper than what you find here in California. Sorry California, you just don't do pizza right.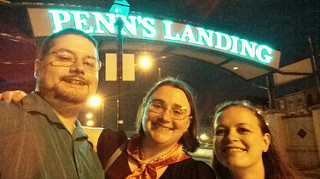 Much like our trip in the spring we also had a lot of work to do with storage to sort, consolidate and determine what we'll be bringing out west. It's a tedious and exhausting process, but we made good progress, all things considered. And there were moments where it was fun, like when we found MJ's NES and all his games, then got to play our real world version of Tetris as we documented and packed it up into a plastic tote. We also got to assemble one of those two-wheeled hand trucks that we had delivered to the hotel (you should have seen their faces!). No one died in the process of building the hand truck. We also made a trip to the local scrap metal yard to get rid of an ancient, ridiculously heavy trash compactor that's been taking up space in storage for years. We got a whopping $5.75 for it. Truthfully, I'm just glad we didn't need to pay someone to haul it away. We also managed to get rid of some 1990s era x86 machines (sans harddrives) by bringing them to Best Buy for recycling, a service that I learned they offer nationwide for various computers and electronics.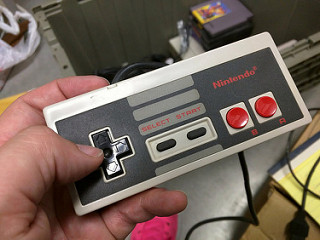 Our trip also landed during the week of Force Friday, the official kickoff of the Star Wars Episode 7 merchandise blitz. Coming home late one evening anyway, we made it out to Toys"R"Us at midnight on Friday the 4th to check out the latest goodies. I picked up three Chewbacca toys, including the Chewbacca Furby, Furbacca. Upon returning to our hotel MJ managed to place an order for a BB-8 by Sphero for me, which I'm having a lot of fun with (and so have the cats!).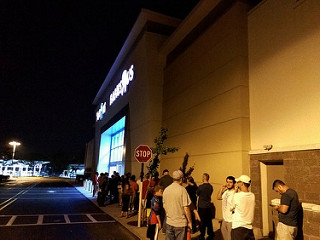 The midnight line at Toys"R"Us on Force Friday
And I also worked. One of my big projects at work this past year had deadlines coming up quickly and so I did what I could to squeeze in time to send emails and sync up with my team mates as needed to make sure everything was prepared for the launch into production that happened upon my return. I'm happy to report that it all worked out.
We flew home on Sunday, just before Labor Day. Unfortunately, we seemed to have brought the heat along with us, with San Francisco plunging into a heat wave upon our return!
Some more photos from the trip: https://www.flickr.com/photos/pleia2/albums/72157658503033995