Often times, Ubuntu Community Appreciation Day sneaks up on me and I don't have an opportunity to do a full blog post. This time I was able to spend several days reflecting on who has had an impact on my experience this year, and while the list is longer than I can include here (thanks everyone), there are some key people who I do need to thank.
José Antonio Rey
If you've been involved with Ubuntu for any length of time, you know José. He's done extraordinary work as a volunteer across various areas in Ubuntu, but this year I got to know him just a little bit better. He and his father picked me up from the airport in Lima, Peru when visited his home country for UbuCon Latinoamérica back in August. In the midst of preparing for a conference, he also played tour guide my first day as we traveled the city to pick up shirts for the conference and then took time to have lunch at one of the best ceviche places in town. I felt incredibly welcome as he introduced me to staff and volunteers and checked on me throughout the conference to make sure I had what I needed. Excellent conference with incredible support, thank you José!
Naudy Urquiola
I met Naudy at UbuCon Latinoamérica, and I'm so glad I did. He made the trip from Venezuela to join us all, and I quickly learned how passionate and dedicated to Ubuntu he was. When he introduced himself he handed me a Venezuelan flag, which hung off my backpack for the rest of the conference. Throughout the event he took photos and has been sharing them since, along with other great Ubuntu tidbits that he's excited about, a constant reminder of the great time we all had. Thanks for being such an inspirational volunteer, Naudy!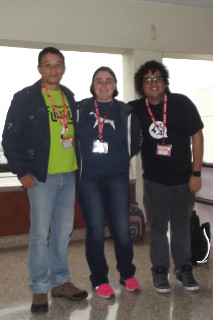 Naudy, me, Jose
Richard Gaskin
For the past several years Richard has led UbuCon at the Southern California Linux Expo, rounding up a great list of speakers for each event and making sure everything goes smoothly. This year I'm proud to say it's turning into an even bigger event, as the UbuCon Summit. He's also got a great Google+ feed. But for this post, I want to call out that he reminds me why we're all here. It can become easy to get burnt out as a volunteer on open source, feel uninspired and tired. During my last one-on-one call with Richard, his enthusiasm around Ubuntu for enabling us to accomplish great things brought back my energy. Thanks to Ubuntu I'm able to work with Partimus and Computer Reach to bring computers to people at home and around the world. Passion for bringing technology to people who lack access is one of the reasons I wake up in the morning. Thanks to Richard for reminding me of this.
Laura Czajkowski, Michael Hall, David Planella and Jono Bacon
What happens when you lock 5 community managers in a convention center for three days to discuss hard problems in our community? We laugh, we cry, we come up with solid plans moving forward! I wrote about the outcome of our discussions from the Community Leadership Summit in July here, but beyond the raw data dump provided there, I was able to connect on a very personal level with each of them. Whether it was over a conference table or over a beer, we were able to be honest with each other to discuss hard problems and still come out friends. No blame, no accusations, just listening, talking and more listening. Thank you all, it's an honor to work with you.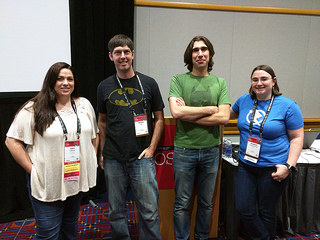 Laura, David, Michael and me (Jono took the picture!)
Paul White
For the past several years, Paul White has been my right hand man with the Ubuntu Weekly Newsletter. If you enjoy reading the newsletter, you should thank him as well. As I've traveled a lot this year and worked on my next book, he's been keeping the newsletter going, from writing summaries to collecting links, with me just swinging in to review, make sure all the ducks are lined up and that the release goes out on time. It's often thankless work with only a small team (obligatory reminder that we always need more help, see here and/or email editor.ubuntu.news@ubuntu.com to learn more). Thank you Paul for your work this year.
Matthew Miller
Matthew Miller is the Fedora Project Lead, we were introduced last week at LISA15 by Ben Cotton in an amusing Twitter exchange. He may seem like an interesting choice for an Ubuntu appreciation blog post, but this is your annual reminder that as members of Linux distribution communities, we're all in this together. In the 20 or so minutes we spoke during a break between sessions, we were able to dive right into discussing leadership and community, understanding each others jokes and pain points. I appreciate him today because his ability to listen and insights have enriched my experience in Ubuntu by bringing in a valuable outside perspective and making me feel like we're not in this alone. Thanks mattdm!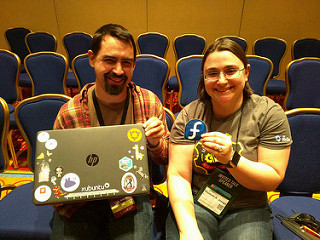 Matt holds my very X/Ubuntu laptop, I hold a Fedora sticker
You
If you're reading this, you probably care about Ubuntu. Thank you for caring. I'd like to send you a holiday card!