Back in 2014 I had the opportunity to lend my expertise to the 8th edition of The Official Ubuntu Book and began my path into authorship. Since then, I've completed the first edition of Common OpenStack Deployments, coming out in September. I was thrilled this year when Matthew Helmke invited me back to work on the 9th edition of The Official Ubuntu Book. We also had José Antonio Rey joining us for this edition as a third co-author.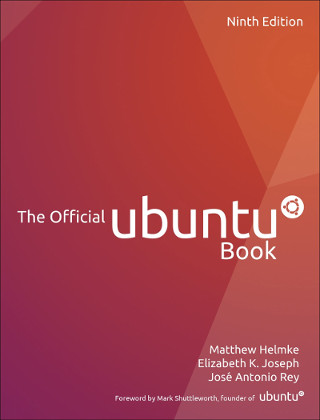 One of the things we focused on with the 8th edition was, knowing that it would have a shelf life of 2 years, future-proofing. With the 9th edition we continued this focus, but also wanted to add a whole new chapter: Ubuntu, Convergence, and Devices of the Future
Taking a snippet from the book's sample content, the chapter gives a whirlwind tour of where Ubuntu on desktops, servers and devices is going:
Chapter 10: Ubuntu, Convergence, and Devices of the Future 261

The Convergence Vision 262
Unity 263
Ubuntu Devices 264
The Internet of Things and Beyond 268
The Future of the Ubuntu Desktop 272
Summary 273
The biggest challenge with this chapter was the future-proofing. We're in an exciting point in the world of Ubuntu and how it's moved far beyond "Linux for Human Beings" on the desktop and into powering servers, tablets, robots and even refrigerators. With the Snappy and Ubuntu Core technologies both powering much of this progress and changing rapidly, we had to be cautious about how in depth we covered this tooling. With the help of Michael Hall, Nathan Haines and Sergio Schvezov I believe we've succeeded in presenting a chapter that gives the reader a firm overview of these new technologies, while being general enough to last us until the 10th edition of this book.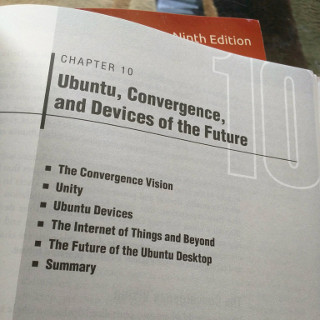 Also thanks to Thomas Mashos of the Mythbuntu team and Paul Mellors who also pitched in with this edition. Finally, as with the last edition, it was a pleasure to work with Matthew and José on this book. I hope you enjoy it!