On Saturday, June 25th my husband and I made our way south to Felton, California so I could give a presentation to the Felton Linux Users Group on Ubuntu 16.04.
I brought along my demo systems:
Lenovo G575 running Ubuntu 16.04, which I presented from
Dell mini9 running Xubuntu 16.04
Nexus 7 2013 running Ubuntu OTA-11
bq Aquaris M10 running Ubuntu OTA-11
All these were pristine systems so that I didn't have any data loaded on them or anything. The Nexus 7 took some prep though. I had to swing by #ubuntu-touch on freenode to get some help with re-flashing it after it got stuck on a version from February and wouldn't upgrade beyond that in the UI. Thanks to popey for being so responsive there and helping me out.
The presentation was pretty straight forward. I walked attendees through screenshots and basic updates of the flavors, and then dove into a variety of changes in the 16.04 release of Ubuntu itself, including disabling of Amazon search by default, replacement of Ubuntu Software Center by GNOME Software, replacement of Upstart with systemd (new since the last LTS release), ability to move the Unity launcher to the bottom of the screen, inclusion of ZFS and the introduction of Ubuntu Snappy.
Slides from my presentation are available for other folks to use as they see fit (but you probably want to introduce yourself, rather than me!): feltonlug_ubuntu_1604.pdf (3.1M), feltonlug_ubuntu_1604.odp (5.4M). If you'd like a smaller version of this slide deck, drop me a message at lyz@ubuntu.com and I'll send you one without all the flavor screenshots.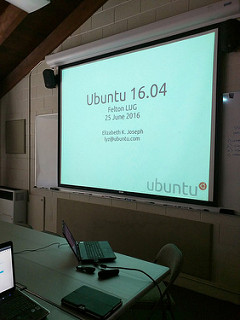 After the presentation portion of the event, I answered questions and gave folks the opportunity to play with the laptops and tablets I brought along. About half the meeting was spent causally chatting with attendees about their experiences and plans to debug and flash the Ubuntu image on supported tablets.
Huge thanks to the group for being the welcoming crowd they always are, and Bob Lewis for inviting me down.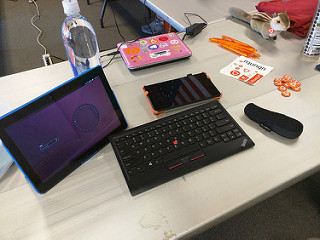 I'll continue my presentation roadshow through July, presenting on Ubuntu 16.04 at the following Bay Area groups and events where I'm also bringing along Ubuntu pens, stickers and other goodies:
Bonus: At the release party in San Francisco I'll also have copies of the The Official Book, 9th Edition which I'll be signing and giving away!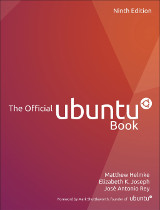 Looking forward to these events, it should be a nice adventure around the bay area.