Back in the fall of 2014 I signed a contract with Prentice Hall that began my work on my second book, Common OpenStack Deployments. This was the first book I was writing from scratch and the first where I was the lead author (the first books I was co-author on were the 8th and 9th editions of The Official Ubuntu Book). That contract started me on a nearly two year journey to write a this book about OpenStack, which I talk a lot about here: How the book came to be.
Along the way I recruited my excellent contributing author Matt Fischer, who in addition to his Puppet and OpenStack expertise, shares a history with me in the Ubuntu community and Mystery Science Theater 3000 fandom (he had a letter read on the show once!). In short, he's pretty awesome.
A lot of work and a lot of people went into making this book a reality, so I'm excited and happy to announce that the book has been officially released as of last week, and yesterday I got my first copy direct from the printer!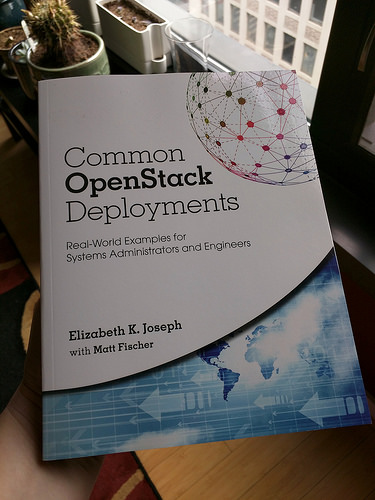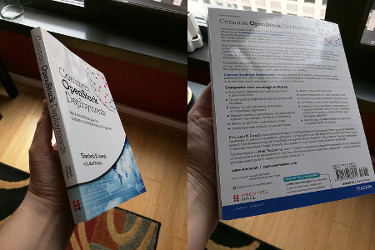 As I was putting the finishing touches on it in the spring, the dedication came up. I decided to dedicate the book to the OpenStack community, with a special nod to the Puppet OpenStack team.

Text:
This book is dedicated to the OpenStack community. Of the community, I'd also like to specifically call out the help and support received from the Puppet OpenStack Team, whose work directly laid the foundation for the deployment scenarios in this book.
Huge thanks to everyone who participated in making this book a reality, whether they were diligently testing all of our Puppet manifests, lent their OpenStack or systems administration experience to reviewing or gave me support as I worked my way through the tough parts of the book (my husband was particularly supportive during some of the really grim moments). This is a really major thing for me and I couldn't have done it without all of you.
I'll be continuing to write about updates to the book over on the blog that lives on the book's website: DeploymentsBook.com (RSS). You can also follow updates on Twitter via @deploymentsbook, if that's your thing.
If you're interested in getting your hands on a copy, it's sold by all the usual book sellers and available on Safari. The publisher's website also routinely has sales and deals, especially if you buy the paper and digital copies together, so keep an eye out. I'll also be speaking at conferences over the next few months and will be giving out signed copies. Check out my current speaking engagements here to see where I'll be and I will have a few copies at the upcoming OpenStack Summit in Barcelona.