On October 13th MJ and I took Simcoe in to the vet for her quarterly checkup. The last time she had been in was back in June.
As usual, she wasn't thrilled about this vet visit plan.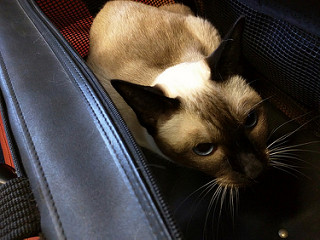 This time her allergies were flaring up and we were preparing to increase her dosage of Atopica to fight back on some of the areas she was scratching and breaking out. The poor thing continues to suffer from constipation, so we're continuing to try to give her wet food with pumpkin or fiber mixed in, but it's not easy since food isn't really her thing. We also have been keeping an eye on her weight and giving her an appetite stimulant here and there when I'm around to monitor her. Back in June her weight was at 8.4lbs, and this time she's down to 8.1. I hope to spend more time giving her the stimulant after my next trip.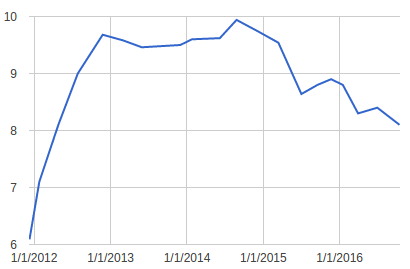 Sadly her bloodwork related to kidney values continues to worsen. Her CRE levels are the worst we've ever seen, with them shooting up higher than when she first crashed and we were notified of her renal failure back in 2011, almost five years ago. From 5.5 in June, she's now at a very concerning 7.0.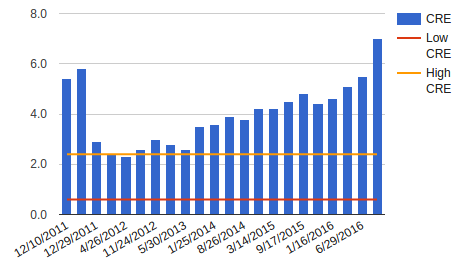 Her BUN has stayed steady at 100, the same as it was in June.
My travel has been pretty hard on her, and I feel incredibly guilty about this. She's more agitated and upset than we'd like to see so the vet prescribed a low dose of Alprazolam that she can be given during the worst times. We're going to reduce her Calcitriol, but otherwise are continuing with the care routine.
It's upsetting to see her decline in this way, and I have noticed a slight drop in energy as well. I'm still hoping we have a lot more time with my darling kitten-cat, but she turns ten next month and these value are definitely cause for concern.
But let's not leave it on a sad note. The other day she made herself at home in a box that had the sun pointed directly inside it. SO CUTE!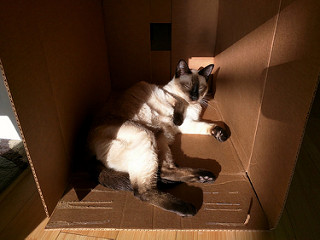 She also tried to go with MJ on a business trip this week.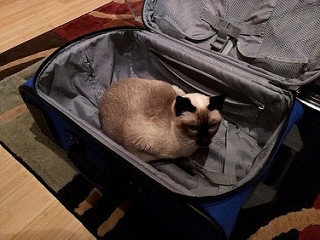 I love this cat.