Simcoe has had a few checkups since I last wrote in October. First was a regular checkup in mid-December, where I brought her in on my own and had to start thinking about how we're going to keep her weight up. The next step will be a feeding tube, and we really don't want to go down that path with a cat who has never even been able to tolerate a collar. Getting her to take fiber was getting to be stressful for all of us, so the doctor prescribed Lactulose to be taken daily to handle constipation. Medication for a kitty facing renal failure is always dicey option, but the constipation was clearly painful for her and causing her to vomit more. We started getting going with that slowly. We skipped the blood work with this visit since we were aiming to get it done again in January.
On January 7th she was not doing well and was brought in for an emergency visit to make sure she didn't pass into crisis with her renal failure. Blood work was done then and we had to get more serious about making sure she stays regular and keeps eating. Still, her weight started falling more dramatically at this point, with her dropping below 8 lbs for the first time since she was diagnosed in 2011, landing her at a worrying 7.58. Her BUN level had gone from 100 in October to 141, CRE from 7.0 to 7.9.
At the end of January she went in for her regular checkup. We skipped the blood work since it had just been done a couple weeks before. We got a new, more concentrated formulation of Mirtazapine to stimulate her appetite since MJ had discovered that putting the liquid dosage into a capsule that she could swallow without tasting any of it was the only possible way we could get her to take it. The Calcitriol she was taking daily was also reformulated. We had to leave town unexpectedly for a week in early February, which she wasn't at all happy with, but since then I've been home with her most of the time so she's seems to have perked up a bit and after dipping in weight she seems to be doing tolerably well.
When we brought her into the vet on March 11th her weight came in at a low 6.83 lbs. The lowest weight she'd ever had was 6.09 when she was first diagnosed and not being treated at all, so she wasn't down to her all time low. Still, dropping below 7 pounds is still troubling, especially since it has happened so rapidly.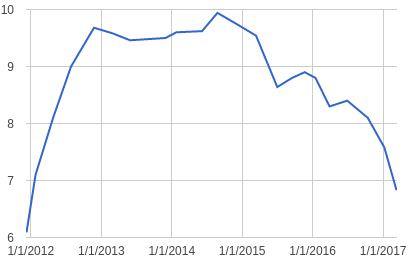 The exam went well though, the vet continues to be surprised at how well she's doing outwardly in spite of her weight and blood work. Apparently some cats just handle the condition better than others. Simcoe is a lucky, tough kitty.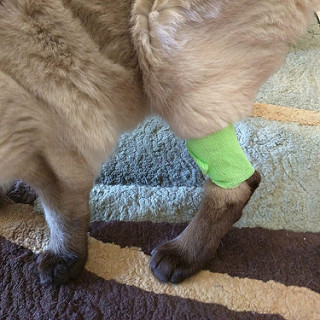 Evidence of the blood draw!
I spoke with the vet this morning now that blood work has come back. Her phosphorous and calcium levels are not at all where we want them to be. Her CRE is up from 7.9 to 10.5, BUN went from 141 to 157. Sadly, these are pretty awful levels, her daily 100 ml Subcutaneous fluids are really what is keeping her going at this point.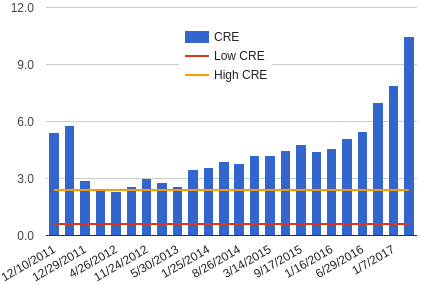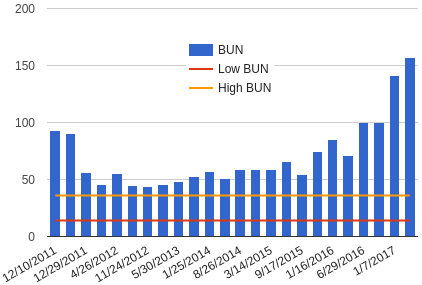 With this in mind, as of today we've suspended use of the Calcitriol, switched the Atopica she's taking for allergies to be every other day. We're only continuing with the Mirtazapine, Lactulose and Subcutaneous fluids. I'm hoping that the reduction in medications she's taking each day will stress her body and mind less, leading to a happier kitty even as her kidneys continue in their decline. I hope she's not in a lot of pain day to day, she does still vomit a couple times a week, and I know her constipation isn't fully addressed by the medication, she still is quite thirsty all the time. We can't increase her fluids dosage since there's only so much she can absorb in a day, and it would put stress on her heart (she has a slight heart murmur). Keeping her weight up remains incredibly important, with the vet pretty much writing off dietary restrictions and saying she can eat as much of whatever she likes (turkey prepared for humans? Oh yes!).
Still, mostly day to day we're having a fun cat life over here. We sent our laundry out while the washer was broken recently and clothes came back bundled in strings that Simcoe had a whole evening of fun over. I picked up a laser pointer recently that she played with for a bit, before figuring it out, she just stares at my hand now when I use it, but at least Caligula still enjoys it! And in the evenings when I carve out some time to read or watch TV, it's pretty common for her to camp out on my lap.