Over the past several months I've been getting into the swing of things with my new role as a Developer Advocate at Mesosphere. This began by attending Spark Summit East back in February, and really got going when I spoke with my colleague Ravi Yadav at Flink Forward in San Francisco early last month.
These very specific technology conferences are somewhat new for me. It's true that I've been going to Ubuntu and OpenStack conferences for nearly a decade, but these projects are huge, with dozens of different projects inside them and various teams, companies and volunteers with varying motivations. It's a whole different thing feel when you have a small concentration of folks working on a very specific technology directly and together. It's also a great learning environment, since your attention is not split across a massive community and you can focus on learning how other people are doing things like deployments, scaling and whatever else is specific to that technology.
I wrote about the specific Flink Forward talk Ravi and I gave in the post on the DC/OS blog, but even more generally it was great to meet community members operating in that space and talk shop about the technologies that surround our work. Professional photos from the event are here and I have my own album of pictures I took here. And in case you're curious, a video of our talk is now online here and slides can be found here.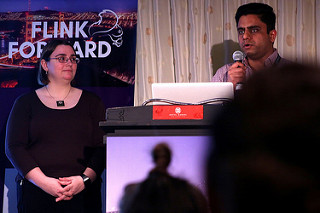 Ravi shows off a demo between my bits of speaking at Flink Forward, cc-by-sa 2.0 Silke Briel (
source
)
I've also been starting to help run some of the meetups that we're hosting here at the office. Back in March I attended and MCed my first Apache Mesos meetup, Running Production Containers and Big Data Services Gets Even Better. The meeting was great for me since I'm still getting up to speed with all our projects, and it covered some features in the new releases. First up was Gilbert Song talking about "Mesos 1.2 Updates and Universal Container Runtime" and then a DC/OS 1.9 features talk by Sebastien Pahl. The event concluded with a presentation about Instana, a multi-layer monitoring platform geared toward container-based architectures where your environment is, by design, constantly changing (it is a paid product, but a 14 day trial is offered). A video from the event is up on YouTube.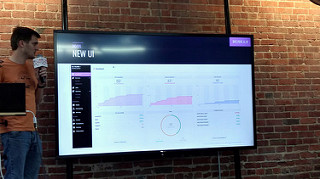 The opportunity also arose to host a Women in Big Data meetup here at the office where Amita Ekbote and Susan Huynh introduced Apache Mesos and DC/OS and gave a live demonstration of the IoT Pipeline. Suzanne Scala posted a write up of the event, including the slide decks and other links on the Women in Big Data blog, here: Big Data on DC/OS. I attend a lot of tech conferences and events, and they tend to be male-dominated, so I really enjoy these events where I can meet other women doing cool technical stuff. Plus, big data in particular is a space where people are doing some really interesting work.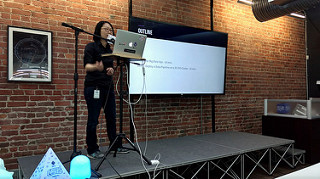 I'm looking forward to helping out with more local meetups in the coming months here at the office, but also to be speaking at some of my own, I'm aiming for some east coast events in early June that I'm pretty excited about.