Back in May I wrote about my Neo smartpen N2. As I mentioned in that post, I have a single pen and two notebooks, one that I use to take notes at conferences and one that I keep in my purse for taking random notes where ever I am.
First up, I've decided to only use the pen for conferences. I bought that second notebook for my purse but it didn't work out. I don't want to have to depend upon having a specific pen with me whenever I need to jot down a note. I'd also need to make sure it was always charged, nothing would be more annoying than realizing I have the pad and the pen, but that it wasn't charged. I do also always carry my phone with me, so I could take notes on that, the reason I carry a pen and paper is that it's simple. Finally, while the pen is not huge or awkward to write with, it is big, and expensive, so I needed a spot in my purse that was big enough for it and would keep it pretty safe. My purse is a giant mess, so that was tricky. The ephemeral nature of much of what I write in these notebooks also means I don't really need them synced and stored forever, so going to all this trouble doesn't benefit me much.
I also mentioned in my first post about this pen that I get cute little notebooks for free at conferences frequently, and it would be a shame not to use them. And pens, so many pens! Seems to me that I should just stick with using my lovely pile of free notebooks and pens to jot down grocery lists, reminders of things I need to do and other notes.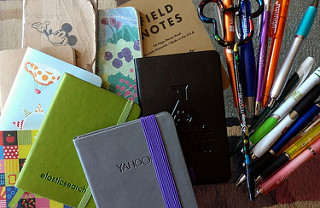 Tech companies are my source of little notebooks and pens
Now, use for conferences. I have enjoyed having an online backup of all the notes I take at conferences up in Evernote. Once the notes are synced to the app, if it takes me a few days to write up a blog post following an event I don't have to worry about having the physical notebook with me. Having digital access to the notes long-term will be nice too. There are few things I have learned in these past few months though.
1. The "open app and see writing in real time" works and is fun for them to show off in the store, but it is a gimmick. It's not actually useful and it kills the battery life.
2. I was at a conference recently where I kept syncing data to the app (it's fun to see words show up, and maybe I was bored). That wasn't gentle with the battery life either. I still don't know exactly what the battery life is, so I just got into the habit of making sure it's charged before I go to an event.
3. At least with the app on Android, you actually have to open up app to get the pen to sync data. Not pro-actively syncing is probably helpful for battery life, but I have to make sure I do this before I head into the office and realize I don't have notes synced.
4. The pen once got into a state where it stopped recording. I don't know what happened, but the only symptom I noticed was I couldn't shut the pen off. I ignored this and just used it the rest of the day. I shouldn't have done that. In order to try and prevent this in the future, I've started being diligent about shutting the pen off between talks so I know it's turning on and off properly. Hopefully this at least reduces how many pages I lose if it happens again. Oh, and I did end up getting it all digitized, by spending a 40 minute ferry ride tracing the words. Ugh.
5. I am 40 pages into my notebook and I've already replaced the ink in the pen. I spent $8.70 on Amazon for 10pcs Zebra 4C-0.7 0.7mm Refill (Box Set) – Black Ink. Works great and it's easy to replace.
With that, I'm ready to embark on my next conference with my fancy pen! And happily back to using regular pens and notebooks in my purse.