My trip to the east coast continued on Sunday when I flew down to Nashville for LISA18. I was able to check into the hotel around 3PM and had the whole beautiful afternoon to myself. Both the cab driver coming in and the front desk at the hotel mentioned the Broadway District just a couple blocks from the hotel, so that was my first stop.
I think the first thing that struck me about it was how much smaller it was than I expected. I think I've grown accustomed to towering skyscrapers, so seeing a popular district topping out at 3 stories was a surprise. The area is pretty historic, which probably explains it, and the nature of that neighborhood hasn't stopped larger buildings downtown from popping up. All the construction that was impossible to miss throughout the rest of the city, and at the airport. A quick Google search on the state of things in Nashville shows that its economy is booming.
The second thing I noticed was the music! The street is lined with honky-tonks spilling live country music out into the streets. On that beautiful Sunday afternoon they were packed with patrons inside and people on the sidewalks enjoying the music. It was a fun atmosphere, even if it was one of those moments where I was really missing the culture bit of drinking, I really would have liked to pop into one of the bars and settle in with a beer or whiskey cocktail.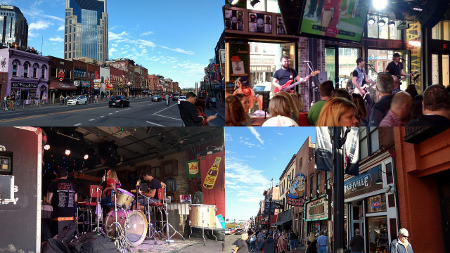 Instead, I went for ice cream from a large candy shop on Broadway that had a stream of happy-looking ice cream eaters pouring out of it. The shop was adorable, and even had a model train running above our heads. The "little bit of everything" Monster Mash ice cream didn't disappoint. A series of tweets about my adventures lead to a walk to meet up with a fellow conference attendee (and one of our keynote speakers!) who I'd only known online up until then. We had a lovely time of chatting about serverless, cats, and the tech industry.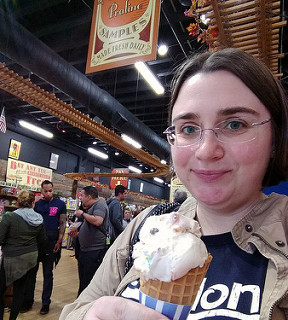 The next three days were consumed by the conference, which I'll write about later. I scheduled my flight out of Nashville post-conference for the late afternoon so I could have a few hours to do some final tourist stuff. It was raining for most of the morning, which firmed up my decision to visit the Country Music Hall of Fame and Museum, which helpfully had an indoor walkway from my hotel.
There was a time in my life when I'd say "I love all music except country and rap," but I've come around to embrace both. In the case of country music the change happened when I was living in Schwenksville, Pennsylvania, the home of the annual Philadelphia Folk Festival. It took just one year of attending for me to develop a fondness for folk music. That fondness started a historical journey through the roots of American folk, which quickly digs up the greats of country music. It's a beautiful mix of European and African influences that has resulted in a very American genre that I have a lot of respect for. Once you have a firm base in traditional country music going back to when recording began in the 1920s, it's not a leap to appreciate the modern forms. I realize this is a ridiculously intellectual perspective on appreciating an art, especially one that that has so much heart, but welcome to my brain.
Visiting the Country Music Hall of Fame turned out to be a real treat. There were some rotating exhibits featuring specific artists, but I loved that they didn't put too much focus on any big name artist in their core collection, regardless of their impact (even if the gift shop may lead you to believe it's the Johnny Cash museum). It was also nice that they had a handful of seated theater areas where I could get off my feet for a while and watch a short film, as it turns out spending a couple hours in a museum isn't the easiest thing now that I'm entering the 7th month of pregnancy.
After the museum I made my way over to a little restaurant specializing in southern dishes and enjoyed a patty melt made with pimento cheese. I had more pimento cheese on this trip than I care to admit, but it's so very good and I don't have the opportunity all that often. It was then time to head off to the airport to begin my journey home.
As usual, I wish I had more time to explore the city, though I think it's one of those places I would have liked to have a travel buddy in. I suspect a visit to a honky-tonk is a lot more fun when not doing it solo.
More photos from my tourist adventures in Nashville here: https://www.flickr.com/photos/pleia2/albums/72157703123552815
On Thursday I'm off to Seattle for my last conference trip of the year. I'm flying in a day earlier than originally planned to meet up with a friend to get in some tourist time. Currently the plans include brunch and finally going up in the Space Needle, which I've somehow not managed to do in the several times I've been up there. Should be a nice time.