On January 6th in the wee hours of the morning I gave birth to our son Adam Stanley Joseph!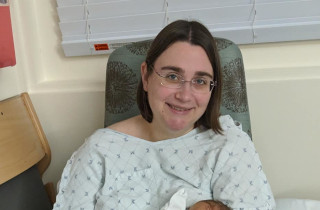 Like much of the pregnancy, the delivery was a bit complicated and we had a few rough days the first week, but I'm happy to say that as we enter our third week together, little Adam is doing well. In many ways, my own recovery post-delivery has gone well, I am much more mobile than I was late in the pregnancy, but I certainly am still healing.
Our fluffy son Caligula isn't quite sure what to make of the new addition, but he has had his moments of curiosity about the new animal we've brought home.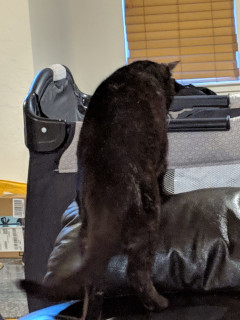 As the first week progressed, we started having family arrive into town. First was my Aunt Elaine, who will be spending several weeks with us to help us adjust to life with a newborn. MJ's best friend arrived next, followed by his father, my grandfather, and my mother on Friday the 11th. Four of them stayed with us here at the house, proving that without even much creative use of space, we could actually expand Hotel Joseph to accommodate a bunch of single adults staying with us.
The family visiting was of course to meet the little one, but also to celebrate with us. On the 13th, 8 days from birth, we had his bris and baby naming at our synagogue in San Francisco. In addition to family from out of town, several local friends joined us as we enjoyed a catered lunch from Wise Sons and then were able to share some words about the origin of Adam's name, segments of which come from his maternal grandfather and paternal great grandfather.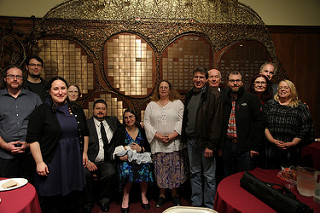 The week that followed was full of firsts. I learned that newborns aren't particularly bothered by noise, so he's now been out to two meals with us at kid-friendly restaurants we enjoy, Knudsen's Ice Creamery for dinner one night, and Doug's Place for brunch this past Saturday. He slept soundly through both outings. Of course we also spent a lot of time just visiting with family, and rearranging our limited furniture so that we could gather together in some previously unused common spaces in the house and to make sure Adam could be out with everyone as much as possible, even if most of his time was spent sleeping.
There's been a fair amount of take-out consumed these past couple weeks, but my aunt is also keeping me well-fed with fresh fruit salads and snacks as I need them. In fact, her help can't be understated. So far she has kept laundry and dishes flowing, helped keep family schedules intact as we juggle guests and adjusting to life with a newborn, and has been pitching in with the endless cycle of feeding and diaper changing, most recently relieving us in the early morning so we can get a few hours of undisturbed sleep here and there. I'm so grateful to have her here.
As I wrap up this post, I want to pause for a moment to talk about privacy. I don't share everything in this blog and online, but I am a pretty public person. I do my best to protect the privacy of those close to me, often asking permission for sharing things when there is an expectation of privacy, and holding back when needed. When it comes to our son, for now we've decided to extend that privacy expectation to him. We'll share photos of him directly with friends and family, and may even do a paper family photo card for the next holiday season, but for now we felt it would be prudent to exercise caution regarding what we share in public.