These past few weeks have been a bit of a whirlwind. I'll discuss my recent work trips in more detail soon, but for now I thought I should write a bit about my last few weeks of maternity leave. As I wrote previously, we welcomed an au pair into our home last month. She's wonderful and I'm happy to say that it's going well so far. MJ was able to use some of his paternity leave to get her settled in, and I was able to spend three full days getting things done on my own as she took the reins for Adam's routine daily care.
Adam and I did a bunch more walks. The four of us heading out to Lake Chabot Park one afternoon.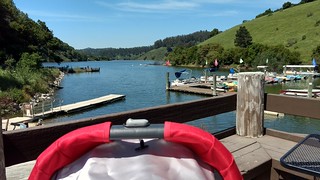 Another day I walked with him to the library and discovered a path that took us up to the boulevard.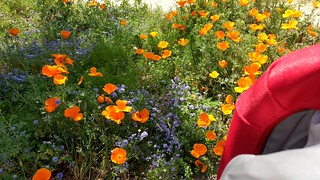 We also celebrated our first Passover with little Adam. We went to San Francisco to partake in a second night Seder with the rest of our congregation.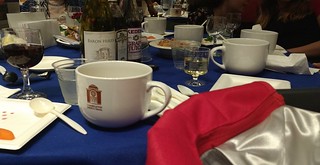 The weather started warming up in April too, with temperatures soaring into the 80s some days and making me grateful that we'd finally installed air conditioning. On the house side, MJ has also been chatting with various solar companies to get traction on our solar panel project as well. Our yard is the next big project on my radar. It seemed like it would be low maintenance when we bought the house, but the mulch is no match for the weeds and it's gotten a bit out of control. With an infant and so much else going on right now, it's pretty clear we need help with it, my feeble attempts at weeding every few weeks when I can make time aren't even putting a dent in it.
I started work at the tail end of April, and have been pretty much non-stop since. A trip across the country for a funeral, two east coast work trips. The weekend in between trips was spent attending a memorial and celebration of life for Rabbi Larry Raphael and minivan shopping.
Losing Rabbi Raphael this year was difficult for me. He was my first rabbi, having taught the introduction to Judaism class I attended before MJ and I got married, doing our pre-marriage counseling, and later sitting down with me to talk through my thoughts on God. He was a wonderful teacher, and his fondness for books made me eager to work with him and read every book he recommended and loaned to me, I was still in possession of one of his books when he passed. I still remember when I asked him how to reconcile competing religions all claiming to be The Truth and why I'd choose one over the other, he told me that they were all just different paths to God. I don't think he'd suggest that the details didn't matter, but there is more to faith than just picking a religion off a shelf when you decide you want it in your life. There's culture, connection, family, and a lot of other squishy human stuff. He will be missed, but I'm grateful we could take time to celebrate his life with the rest of our congregation.
And then there was the minivan shopping. When we rushed out of town for the funeral of a relative in Florida, we happened to book a minivan. It was the right choice after squeezing the four of us into our 3-row SUV along with all our luggage, and Adam's stroller. We don't pack light, especially when we have to bring formal clothes, and Adam had a whole big suitcase all his own. Plus, I also had to pack for a work trip I was leaving for directly from Florida. Fitting everything was no problem for the minivan we rented. The sliding doors were actually quite nice too. As a car fan, I wasn't proud to admit entering this part of adulthood, but it did convince us that we should send the Santa Fe to our place in Philly (the lease on our current car there runs out in October) and get a minivan as the family car here. We haven't pulled the trigger on it yet, but we're pretty sure we know what we want now and will likely come home with one pretty soon. And fun fact: Maserati is owned by Fiat Chrysler so the infotainment system in the Maserati Ghibli is the same as the Chrysler Pacifica. It's so weird.